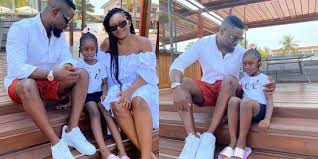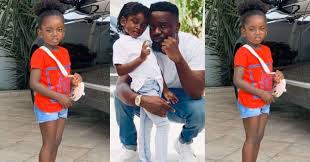 Actually, I know how it's going to be peaceful in the house if the gender of your children is balance. In a way that even the ages are also balance. Now we all know our this great man. In fact, he is great to my perception and I don't know about you. 'SarKoDie' claims that it is very good to have well gender balance in his child bearing.
Whenever we take picture together, I can see how I'm always the odd one in the family because my wife and my child are all females. Imagine if he was to have a son who also sings like he do. I know definitely his song would have also take the quality title of his father and a good artist.
Making some little reference to 'Okyeame Kwame'. It is very clear and obvious that he has a very beautiful family with a very nice gender balance. This man really love to engage his family into every single thing that he does. He plays with his children and make shots with them for family happiness. That is something nice to everyone and 'SarKoDie' really like to have that kind of family.
He also make reference to the son of one famous footballer who I don't want to make any statement like "the best" or "bad" player. The footballer who generated a lot of champion league cup for Real Madrid. This player has a son who is really good like a photocopy of his father who some people hate. Although some people also like him very well. But in football, everyone has a choice. Below is the picture of Ronaldo and his son.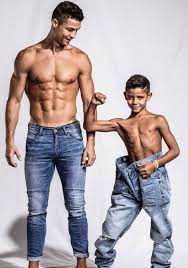 Putting everything together, 'SarKoDie' just want to have a son who is going to be like him. He want a son who will one day become a great artist like himself.
THANK YOU FOR CLICKING.
If you want to know more about celebrities, FOLLOW ME FOR MORE.
Content created and supplied by: joshjoy (via Opera News )