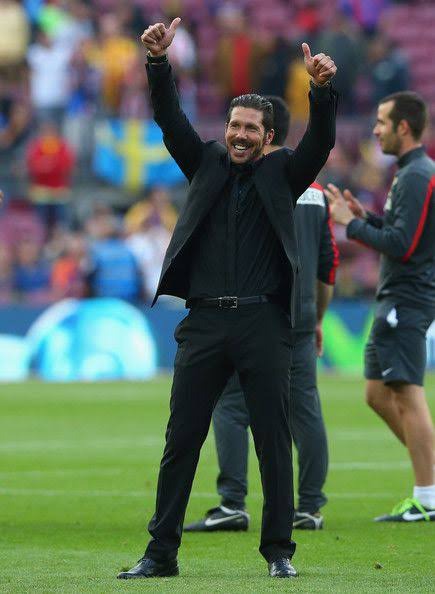 Few clubs over the past decade have developed as succinct of a style of play as Diego Simeone's Atletico Madrid. The 4-4-2 and 4-4-1-1 formations have practically become synonymous with Simeone's side, as he's taken Atletico to two Champions League finals and one La Liga title.
Although 2019-20 wasn't the best of seasons for Los Rojiblancos, they've continued their usual defensive prowess, conceding the second least amount of goals in La Liga and beating Liverpool in both Champions League Group Stage encounters.
This season, Someone has shown a high degree of fluidity with his formations. Although Atletico have operated primarily in a 4-4-2 formation, this season he has tried different formations; 3-1-4-2, 3-4-1-2, 3-4-2-1 and a hybrid flat 3-5-2/5-3-2. With the capability of players like Trippier, Lodi and Carrasco to operate as wing-backs, Simeone might see the 3-5-2 as a long-term plan for his side. It is important to note that Atletico's players have remained extraordinarily versatile as always, contributing to Simeone's flexibility with his formations.
Last season, Atletico Madrid played a rigid and robust 4-4-2 system. Although they had experimented with a 3-1-4-2 and 4-4-1-1 over the years, Simeone stayed true to his tried and tested 4-4-2. Such is the narrowness of the formation, players that would normally be deployed as central midfielders have enjoyed much of their time on the wings over the years, such as Saul Niguez, and Koke. In fact, it seems to be a precursor to playing for Simeone that a player can play in multiple different positions. Saul Niguez is the greatest example of such a player, as the Spaniard has been deployed as a fullback, wing-back, winger, centre-back, defensive midfielder and of course as a central midfielder. Koke has also fulfilled a similar role in the side and has played across all four midfield positions this season.
With so many stellar players at his disposal, Simeone's personnel in his 4-4-2 is likely to change on a match by match basis.
Diego Simeone's side are famous for being defensively resilient, hard working and difficult to break down. They play very narrow, compact and incorporate a mid-to-low-block as part of their defensive structure. This means that they are perfectly fine letting their opposition have the ball lower down on the field, as they shift and slide with the positioning of the ball, the space and the players around them, to remain defensively compact.
When opposition players play out from the back, Atletico's forwards tend to drop in rather than press, as the wingers also tuck in alongside the central midfielders. The forwards may both drop back to join the four-man midfield, or only one of them, as the other lurks in behind and offers an outlet should they win the ball back. When Atletico do decide to press, it is usually more so from an individual to cause the opposing player less time on the ball and to force them into making a mistake, rather than a team attempt to win the ball back.
Should the opposition have the ball on the right side, Atletico's left-back will get close to being touch-tight to their opposition right winger, as the other members of the back three shift in and remain compact. This is the same for when the opposition attack down the left. With this constant shifting and sliding of their defensive structure, the Red and Whites are not the type to dive into tackles or swarm their opposition in numbers.
However, when the ball moves into dangerous areas, such as in and around the eighteen yard box, they may break their patience and sound the alarm bells. Closer to goal in wide areas for example, a left-back and left-winger may join together to press an opposition player as the rest of the team shifts in and remains compact. With the opposing player unlikely to be able to switch play from one side to the other and also more likely to make a mistake with two players pressuring them, Atletico are fantastic at forcing errors when their opposition get into dangerous positions.
However, their defensive structure, which remains rigid and rarely disrupted as a result of their lack of a high press, also means that Atletico are rarely forced into situations where they have to sound the alarm bells. This has all contributed to Simeone's side conceding very few goals.
As stated earlier, Atletico are perfectly fine not having much of the ball. They've kept an average 48% of possession in the past 5 seasons. Unsurprisingly given their block, they force their opposition into shots from outside the eighteen yard box more than any other team in La Liga. 50% of their shots against come outside of the 18-yard box, compared to 43% inside the 18 (the lowest in the league) and 7% in the 6-yard box. Atletico rarely let their opposition get into their box and when they do, they set themselves up far too well for the opposition to have a solid shooting position.
Atletico are also impressive in the air. This can be used to their advantage in counter attacking moments, scoring goals from corner kicks, or in defensive moments where players like Koke, Felipe and Saul Niguez will often get in the way. All three players win significantly more duels in the air than they lose. The team as a whole has also won more than they've lost in the air, and has won the 5th most amount of duels in the air per game in the league. So if the opposition are able to exploit Atletico's lack of width and deliver crosses, Simeone's team remain well set-up to defend them.
Atletico Madrid have also built quite the reputation off of their counter attacking style of play. After winning possession, they don't typically look to go long, such as Burnley's 4-4-2 set-up. Instead, they quickly go on the hunt for a goal through quick counter attacking play.
They have a very vertical approach to their play, looking to spring their attacks quickly. Notably, they've also been caught offside more than any other team in the league. This is a statistic that they've often been at the top of the charts for over the years, but not one that they've ever attempted to change. In their quick counter attacking style, offsides are simply bound to happen more often. They've also continued to rely on the individual ability of players like Correa and Koke to create chances through skill rather than elaborate combinations and team possession turning into brilliance.
Felix's role in the team could be seen as a number 10, drifting in between the lines to pick up possession. But he is also very capable and willing to hold a higher position up the field when Luis Suarez comes in deep to get on the ball himself. With this approach and balance, Atletico most often have a shape that resembles a 4-4-1-1 in possession, and sometimes even out of possession. The team generally sit back in a 4-4-2 mid to low block, but the 4-4-1-1 is a further method of forcing their opposition to have to go around Atletico rather than through.
Strikingly, with Koke back in a midfield role as opposed to one on the wing, which he operated in often during Thomas Partey's rise in the side, this 4-4-1-1 shape can sometimes change. This season, we've seen Atletico utilize an extra central midfielder in their attacking shape, in what could be described as a 4-1-4-1. When Suarez comes in deep, Saul is likely to join the attack as part of the quartet. When it's Felix, Koke is the man to join the attack, as Saul covers in behind. This offers Atletico both structure and balance in their attacking moves. When the team play a 3-5-2 or 3-1-4-2, this attacking shape could also take the form of a 3-4-2-1, with one central midfielder joining the two strikers in a triangular front three. This all may sound complex, but it's important to note that these positional movements are done at speed. Atletico don't favour a slow build-up, and most of their goals are scored with only a few touches or passes on the ball, despite their improvements in possession from last season.
Atletico attack down the middle of the pitch with a higher frequency than most teams in La Liga. In fact, only Barcelona have utilized a more vertical approach in attack this season. Their verticality is partially down to their quick attacking transitions and the necessity of verticality on counter attacks. But Simeone's side still utilize the wings in attack like all top teams, and the role of their fullbacks is particularly key in these moments. As noted, Atletico have operated more and more in a 3-5-2 formation this season, making the role of the fullbacks/wing-backs even more imperative. In a 3-5-2, the wing-backs are virtually the only source of natural width. This offers Atletico a myriad of benefits in defense, such as having an extra midfielder in their low-block and the potential for a five-man defensive structure.
With their reliance on fullbacks and wing-backs, Atletico's shape in attack may sometimes resemble something similar to a 2-4-4 when going all out on the attack; almost inverting the 4-4-2 formation. The fullbacks join higher up the field, often both at a time, and the inverted wingers drift inside to increase numbers in central areas. In a 3-5-2, this shape may resemble more of a 3-4-2-1, with one of the central midfielders joining the front two and the wing-backs holding a relatively steady position as they get up and down the wings.
Content created and supplied by: darlington19 (via Opera News )
Opera News is a free to use platform and the views and opinions expressed herein are solely those of the author and do not represent, reflect or express the views of Opera News. Any/all written content and images displayed are provided by the blogger/author, appear herein as submitted by the blogger/author and are unedited by Opera News. Opera News does not consent to nor does it condone the posting of any content that violates the rights (including the copyrights) of any third party, nor content that may malign, inter alia, any religion, ethnic group, organization, gender, company, or individual. Opera News furthermore does not condone the use of our platform for the purposes encouraging/endorsing hate speech, violation of human rights and/or utterances of a defamatory nature. If the content contained herein violates any of your rights, including those of copyright, and/or violates any the above mentioned factors, you are requested to immediately notify us using via the following email address operanews-external(at)opera.com and/or report the article using the available reporting functionality built into our Platform See More