Referees who officiated the Ghana Division one league game between Wamanafo Mighty Royals and Bofoakwa Tano were subjected to severe beaten today at the Wamanafo park after the game ended in parities.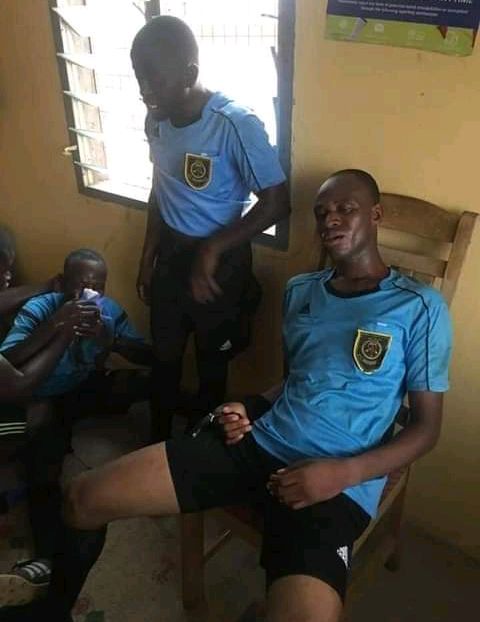 Center referee Niatire Suntuo Aziz and his assistants Suleman Mohammed and Yakubu Abdul Rahman were beaten like Armed Robbers by angry fans of the home side after the final whistle.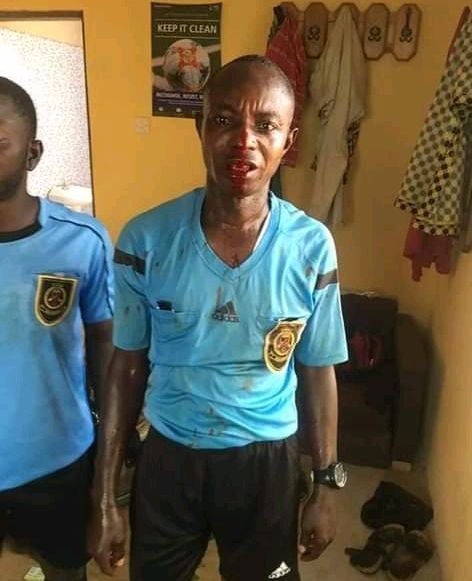 The fans were incensed the referee handed Mighty Royals a raw deal and helped Bofoakwa to earn a 0-0 drawn game.
Even though the management of the club has issued an apology, many people believe the league must be well regulated and culprits are severely punished.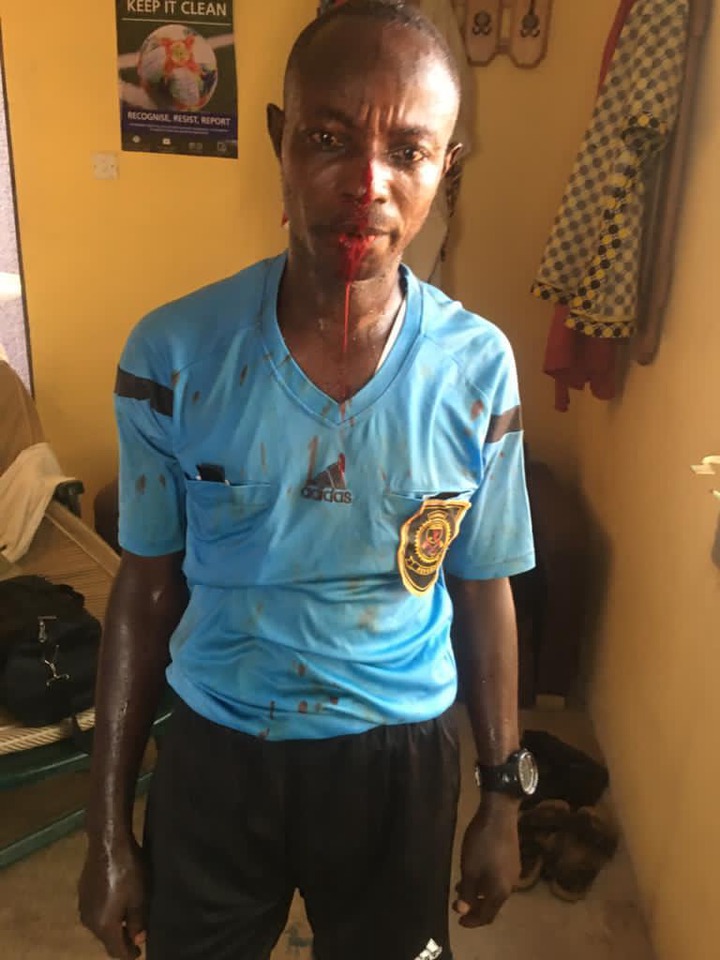 Fans of Elmina Sharks did similar act on February 21 and till date, no sanctions have been meted out to them by the FA.
Below is the full results of the matches played despite the beatings
GHANA DIVISION ONE LEAGUE--MATCHDAY 14 RESULTS
        ZONE ONE
Wa Suntaa 1-0 B.A United 
Mighty Royals 0-0 Bofoakwa 
Young Apostle 0-0 Techiman city 
Tamale city 2-1 Unity fc 
Nkoranza worrios 1-1 Kintampo fc 
Paga crocodiles 0-0 Steadfast 
Nsuatreman fc 0-3 berekum Arsenal 
R.t.u 3-0 Yendi Gbewaa
         ZONE TWO 
FT: Wassaman United 0 - 0 Nzema Kotoko 
MVP: Akesse Akesse ( Nzema Kotoko) 
FT: Star Madrid 0 - 2 New Edubiase 
                Isaac Mintah 2x 
MVP: Isaac Mintah ( New Edubiase) 
FT: Asokwa Deportivo 2 - 1 Achiken FC 
Obeng Samuel   Kumi Zaccheous 
Mahmud Issa 
MVP: Edward Osei Asare ( Asokwa Deportivo)
Ongoing: BYFA 0 - 0 Pacific Heroes 
FT: Skyy FC 3 - 0 Sekondi Hasaacas 
Mintah Ebenezer 
Ebenezer Ocran 
Hamadu Baba Musah 
FT: Proud United 3 - 0 Venomous Vipers 
Richard Eshun 2x 
Jamos Brown 
FT: Unistar Academy 0 - 1 All Blacks 
                  Isaac Berkoh
FT: Bibiani Goldstars 2 - 1 Samartex 
Alhassan Salim   Benjamin Yorke 
Simon Timtooni
       ZONE THREE
1. Young Wise 3-2 Uncle T United
2. Krystal Palace 0-0 Accra City Stars
3. Mighty Jets 4-1 Phar Rangers
4. Nania Fc 0-1 Amidaus Professionals
5. Tema Youth 2-1 Vision Fc
6. Heart of Lions 2-0 Agbozume Weavers
7. Planners Athletics 1-1 Kotoku Royals.
5. Accra Lions Vrs Danbort ( Mon)
Content created and supplied by: SirObanji (via Opera News )