Aduna Stars goal keeper, Joseph Addo who has been called to Black Stars by the Head Coach Charles Akonnor has promised to lead the team to success.
He said, despite the challenges his team Aduana is facing, conceding defeats and poor field works, his call to Black Stars is a divine.
He revealed this when the Head Coach Charles Akonnor enlisted him to be part of the playing body of the Black Stars.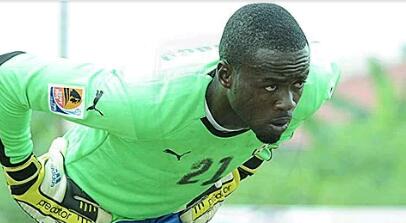 In an interview, he hinted to be the first goal keeper of the new aquad of Black Stars in 2021.
This has made lots of people of Dormaa and the fans of Aduana Stars FC wanting about why the team is losing much games recently?
Meanwhile, that same goal keeper is confidently promising and hoping to perform marvellously as this chance has given to him.
Though the recent defeats of Aduana team would not be by the efforts of only the goal keeper, the defenders may be the main problem.
In the game of football, goal keeper is the last defender and this task might be too heavy for the goal keeper Joseph Addo.
Other claims are also indicating that, conditions of service and living could also affect and influence the playing body of Aduana team and with that of Black Stars, Joseph Addo thinks he is secured and has gotten to the promise land of soccer.
Anyway, his call is in a good direction as it would project the team Aduana to be recognized internationally if their goal keeper excels in Black Stars.
Follow, Like, Comment And Share
Content created and supplied by: Sirrkollins (via Opera News )