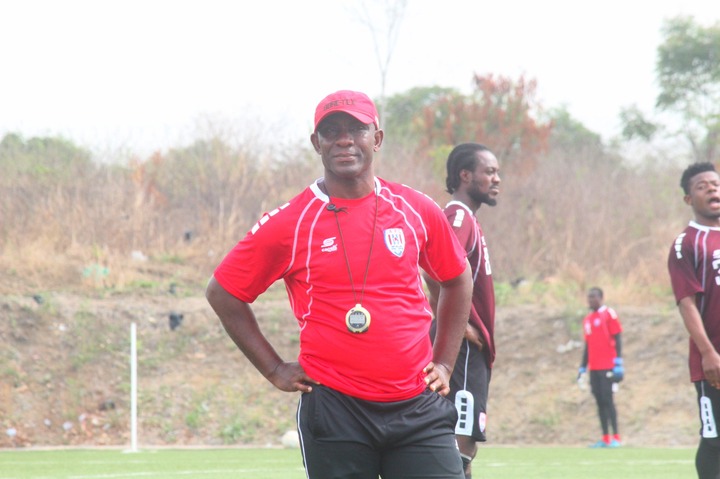 Inter Allies head coach, Felix Aboagye says he wants to put in the necessary work to help the club avoid relegation.
The Capelli Boys named the ex-Ghana international as a substantive coach following the exit of Serbian, Danijel Mujkanovic.
The former Al Ahly and Zamalek forward spoke to sports journalist, Adamu Muftawu.
"You know in Ghana football, second rounds are very very tough and you know we have all studied ourselves during the first round to know the capabilities of every club.
"It's not new, every club knows what every club can do so it will be a ding-dong battle, everybody wants to gather points, everybody wants to pick points to avoid relegation likewise Inter Allies as the head coach now.
"I'm trying to shape my team and to make sure that at least in the middle of the second round we will gather as much points as possible then we will try to avoid relegation.
"So the ball is in our court, we will do everything possible and make sure that everything goes well for us." Felix Aboagye told Adamu Muftawu.
Speaking about his ambition with Inter Allies at the end of the season, Felix Aboagye says he wants to retain the Capelli Boys in the 2020/21 Ghana premier league.
"At the moment the position that we are is not encouraging so we want to avoid relegation first.
"After we do that it will be a plus for me as a coach and we will see the way forward.
"But at the moment we cannot say we are going to play top four because it is impossible because of the points that we have now.
"All we want is to avoid relegation so we want to pick as much point as possible and make sure that we avoid relegation then we can look forward for the future." Felix Aboagye told Adamu Muftawu.
Aboagye's first task will be to lead the Eleven-Is-to-One Boys against Dreams FC in the beginning of the second round at the Theatre of Dreams in Dawu on Sunday April, 4.
Inter Allies sit bottom on the table with 12 points after 17 round of matches.
Content created and supplied by: AdamuMuftawu (via Opera News )