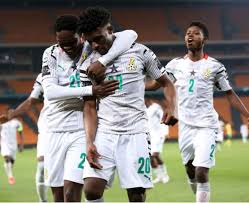 The black stars of Ghana picked up their final 3 points in the on going African cup of nations qualification series as they held São Tome to a second defeat to the black stars of Ghana.
Nicholas Opoku opened up the score sheet on the 12 minute when he brought one pass the São Tome goalkeeper.
This was then followed by the crystal Palace star Jordan Ayew's convertion from the sport to double Ghana's lead on the 32minute.
But the black stars were still far from ok and this led to a Baba Rahman's strike which saw the black stars tripple their lead on the 60th minute.
The São Tome players however reacted to the 3rd goal and pulled one consolation goal back on the 83rd minute when Iniesta put one pass Abalora to deny the Black stars a clean sheet on their home ground.
The black stars controlled the game to the end to claim their fourth win in the qualifications series as the now await for the next adventure.
São Tome didn't offer much of an opposition to the black stars
they however didn't fail to get their goal for them selves when the opportunity came.
The black stars of Ghana however looked like scoring each time they had the ball.
Thomas Partey was of class as he controlled the midfield like no other.
The defense was solid and they delt with almost every threat posed by São Tome adequately.
C. K Akonnor was delighted with what he saw on the pitch and off the pitch.
But he was however not happy he couldn't get a cleansheet from a game he should have.
He however hopes the players carry this mentality of winning every time they are called upon as well as improve on the defending.
With the exception of the England trio and the goal keepers the rest of the squad specifically the new boys will still need to justify them selves.
In subsequent friendly matche they players need to justify them selves to secure their place in the AFCON squad that will travel to Cameroon.
With this performance, the national team is capable of going far with their game.
Was São Tome a good opposition enough to judge the team performance on?
I think the team justification will come later as stronger opponents are faced,
The quest to end Ghana's Afcon drought has just taken another step towards becoming a reality.
AFCON 2022 is definitely coming home.
Do you think local players are being offered enough opportunities in the national team?
Let us know players you think should be part of of the national team who are not there in the comment section.
Content created and supplied by: smssport (via Opera News )