Hearts of Oak releases letter to condemn fans failure to adhere to covid 19 protocols.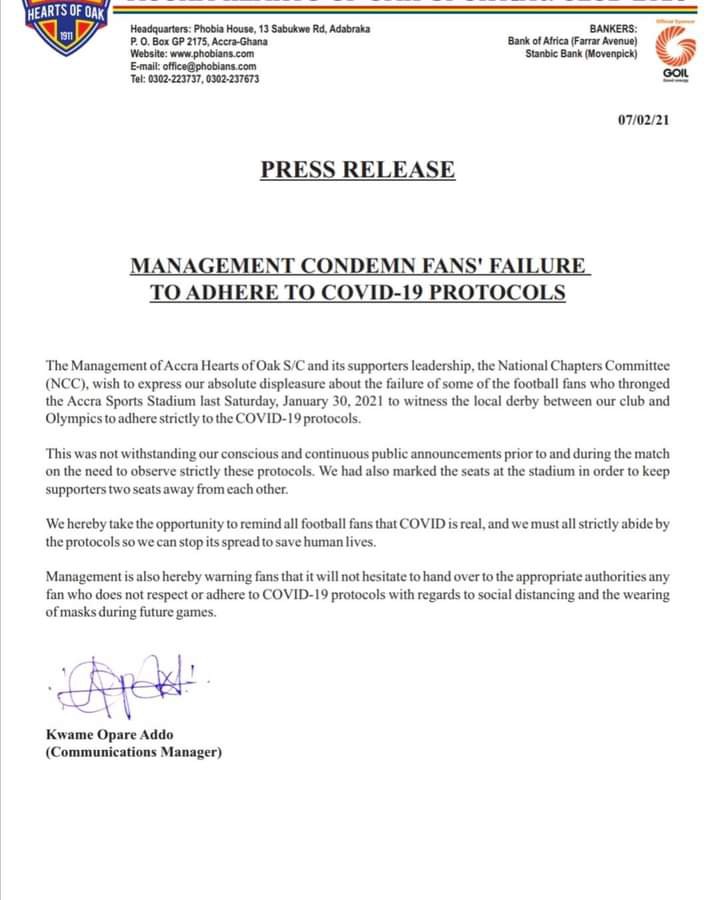 Prior yo their game against Legon Cities this evening, Hearts of oak has released a letter from their official twitter account and the fans who were involved will bow their head in shame.
The letter reads," The management of Accra Hearts of Oak S/C and it's supporters leadership, National Chapters Committee(NCC), wish to express our absolute displeasure about the failure of some fans of the football fans who thronged last Sunday at the Accra sports stadium lay Saturday, January 30,2021to witness the local derby between our club and Olympics to adhere to the strictly the Covid 19 protocols.
This is notwithstanding our conscious and continuous public announcement prior to and during the match in the need to observe strictly these protocols. We had also marked two seats at the stadium in order to keep supporters two seats away from each other.
We hereby take the opportunity to remind all football fans that the Covid is real and we must all strictly abide by the protocols so we can stop its spread to save human lives.
Management is hereby warming fans that it will not hesitate to to hand over to the appropriate authorities any fan who does not respect or adhere to covid 19 protocols with regards to social distancing and the wearing of nose masks during future games".
The letter was signed by the clubs communications director Opare Addo.
Content created and supplied by: Kwameodey7 (via Opera News )