This morning, Catalonia is still discussing Barcelona's incredible comeback from last night. Following their 3-5 victory over Granada in the Copa del Rey, Ronald Koeman's troops are heading into the semi-finals of the tournament.
Needless to say, with such a thrilling contest, there was no way the papers would talk about anything other than that. Mundo Deportivo are calling their efforts 'heroic' as they overturned a 2-0 deficit with only minutes to spare.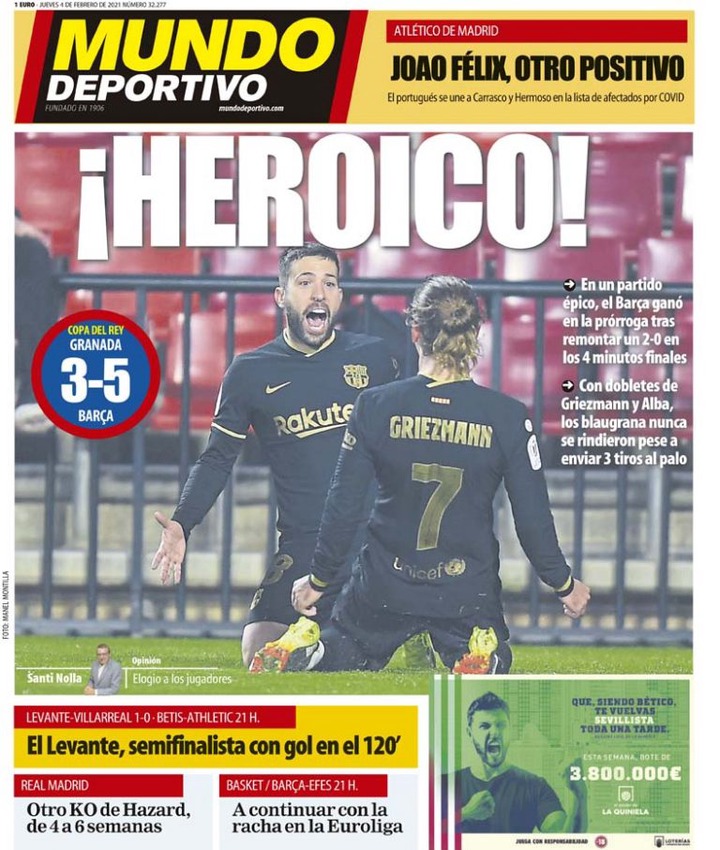 Of course, it was another extra time triumph as Barça came back in the last four minutes of the clash, securing another half an hour of game time to put the final touches on the clash.
Special mentions do have to go to Antoine Griezmann and Jordi Alba, both of whom netted a brace for themselves and pulled the team over the line. Despite hitting the bar three times and missing numerous chances, they never gave up and are now deserved semi-finalists.
And when everything is said and done, however, you can't argue with that statement. The effort that was put in yesterday was surely not human and it shows the team is finally starting to click.
Other than that, the paper writes about Koeman's comments on Paris Saint-Germain, saying it's not good for him to talk about signing Lionel Messi so publicly.
But seeing the team so united, one can't help but wonder whether it could also affect Leo's final decision come summer time…
Content created and supplied by: Elisha_Appiah (via Opera News )