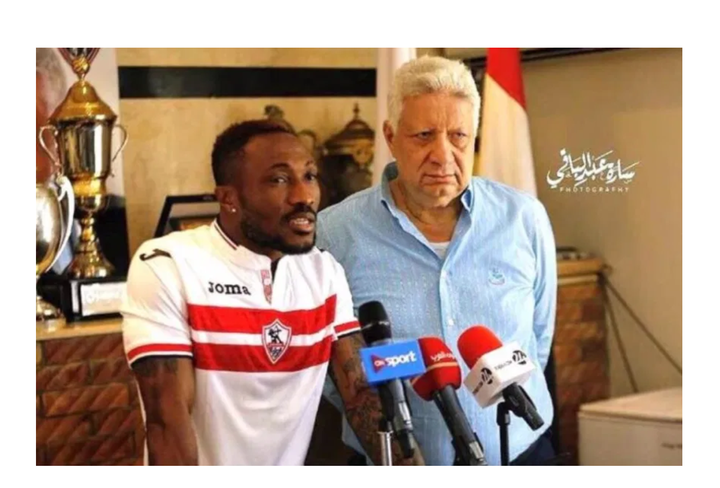 The long standing battle between Ghanaian international Benjamin Acheampong and Egyptian side Zamalek SC continues.
Benjamin Acheampong, who joined Zamalek in 2017 dragged the Egyptian giants to the Court of Arbitration for Sports (CAS) for the unilateral termination of his contract and refusal to settle contractual obligations of $400,000.
The world's adjudicatory chamber in December 2020 ordered Zamalek to pay the player a significant sum of $1.1 million for outstanding salaries, compensation for breach of contract, legal costs and interest.
Fresh reports this week is that Zamalek has reported to CAS that they've settled 25 percent of the $1.1 million to one Mr. El Sayed Ibrahim who portrayed himself as acting on behalf of the player.
According to Zamalek, Mr. El Sayed Ibrahim wrote to them 2 weeks after CAS' ruling portraying himself as a representative of the player and demanded 25 percent of the amount due.
Zamalek made the payment and have now produced a settlement agreement signed by the club and the agent [Mr. El Sayed Ibrahim] to FIFA Disciplinary Committee.
According to the documents sent to FIFA, a cheque of 25 percent of the $1.1 million was given directly to the agent by Zamalek.
However, Benjamin Acheampong has communicated to FIFPRO and FIFA that he hasn't received any amount from the Egyptian club, adding that he did not authorize anyone to take the money on his behalf.
The International Federation of Professional Footballers, FIFPro which amalgamated with the Professional Footballers Association of Ghana (PFAG) to represent Acheampong at CAS has reported the case to FIFA.
FIFPRO is engaging with Egyptian and Swiss lawyers to explore the possibility of starting criminal proceedings, and has also alerted both CAF and the Egyptian Football Association.
"The mere contention that Mr. Acheampong would – two weeks after the notification of the CAS decision – suddenly authorize a third party to accept a settlement for less than 25 percent of the amount due is preposterous," Roy Vermeer, FIFPRO's legal director, said.
"We frequently come across situations like this in professional football legal cases, especially relating to waivers or settlements," Vermeer said.
"Football governing bodies need to do much more to investigate those issues and sanction the perpetrators of these acts," he added.
Acheampong played for Zamalek during the 2017/2018 season, but it was a period to forget for both parties as the Ghanaian striker featured in only six games, scoring two goals.
Benjamin Acheampong has previously played for Asante Kotoko, Petrojet, Pedro de Luanda, Al-Shamal and some few other clubs. He currently plays for Egyptian Division One side El Dakhleya SC.
Content created and supplied by: Alamon (via Opera News )