Follow this page for more educative and informative contents every day.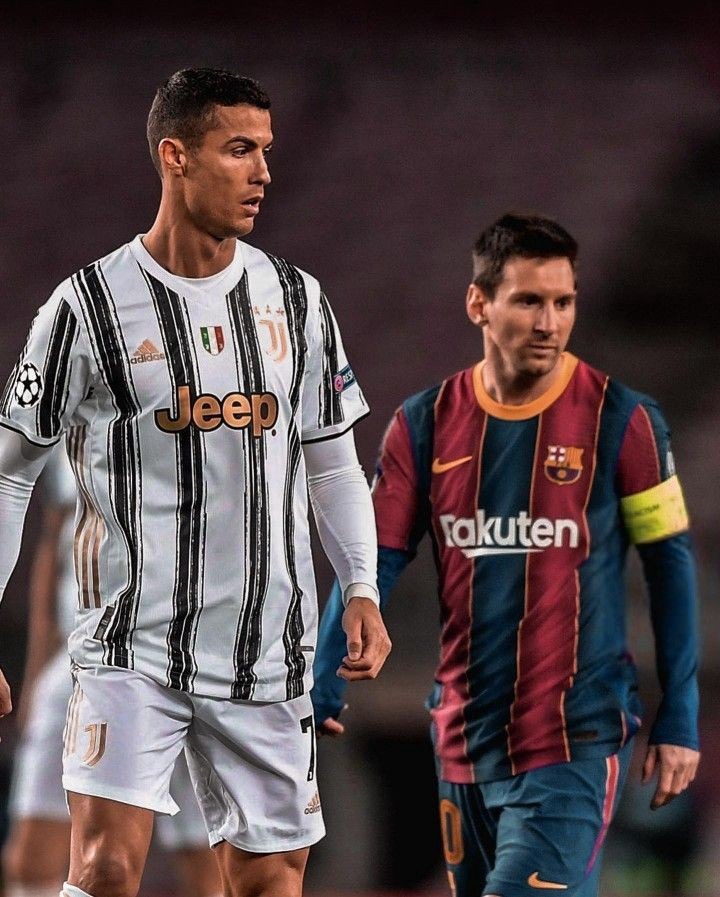 Cristiano Ronaldo has recently expressed his eagerness to invite Lionel Messi. His statement was duly reported on the Twitter page of one of the renowned sports-reporting finest, Spooner in Portsmouth, England. Why does CR7 want to invite Messi? And what type of invitation is he referring to? And where is the Juventus ace inviting the Barcelona superman to?
Let's begin………………………..
Talking about football, there have been several great footballers we have seen over time. Some have come from Africa including Samuel Eto'o, Didier Drogba, Okocha, Abedi Pele, Samuel Osei Kufuor, and the likes. Some of these great footballers have also emanated from Europe, Asia, America. The likes of Ronaldinho, Zidane, Thierry Henry, Raul González and many more of them made football beautiful.
Fortunately, when these professionals left the system, the beauty of football has never declined. People are still happy with this sport because we still have some exceptional footballers displaying their magical prowess on the pitch almost every week.
The two ace that waters the mouths of the sports-loving people are the former Real Madrid man, Cristiano Ronaldo, now playing for Juventus, an Italian based team and Lionel Messi of FC Barcelona. These two exceptionalists have over the years been seen by many as rivals of the century.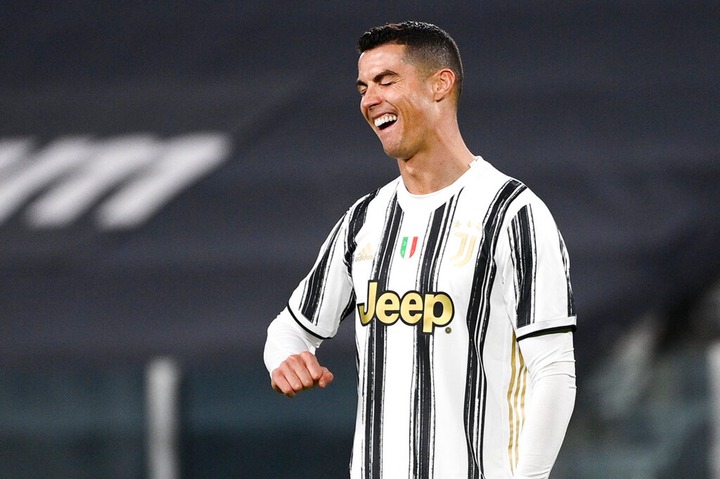 However, going deeper, it is never the case. Though they put in their maximum best when they meet as opponents, they are happy when they see each other. This is evident in a viral statement made by Cristiano Ronaldo not long ago.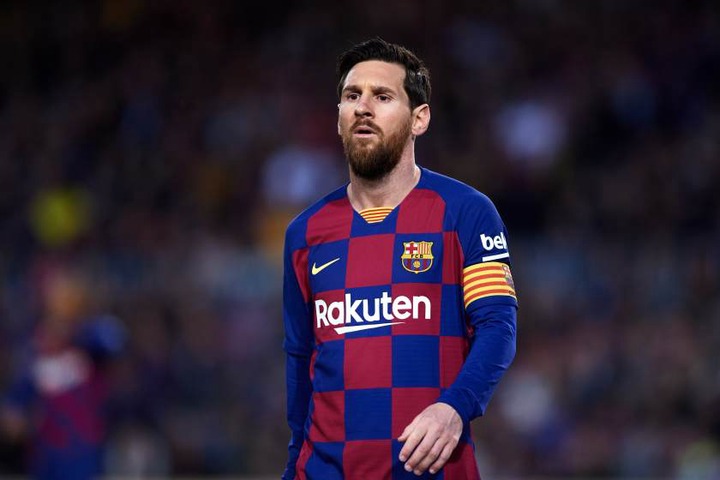 Report on Spooner's Twitter page says that Cristiano Ronaldo has expressed an eager want to retire around an expected circumstance. According to CR7, he wants to play together with Lionel Messi in the same team before he retires. He added that the very moment he gets the opportunity to play a match with the Barcelona cherished star, probably, in the same team, that will be his retirement day.
The Portuguese man said one day he will send an invitation to Messi and he believes that Messi won't turn him down. This is an invitation to play with him in the same team
This was his exact words as reported on Spooner, a renowned sports reporter based in Portsmouth, England.
"One day I will send an invitation to Messi. I do not think he will refuse, but I want to play together in a team, and maybe this match will be my retirement day from football".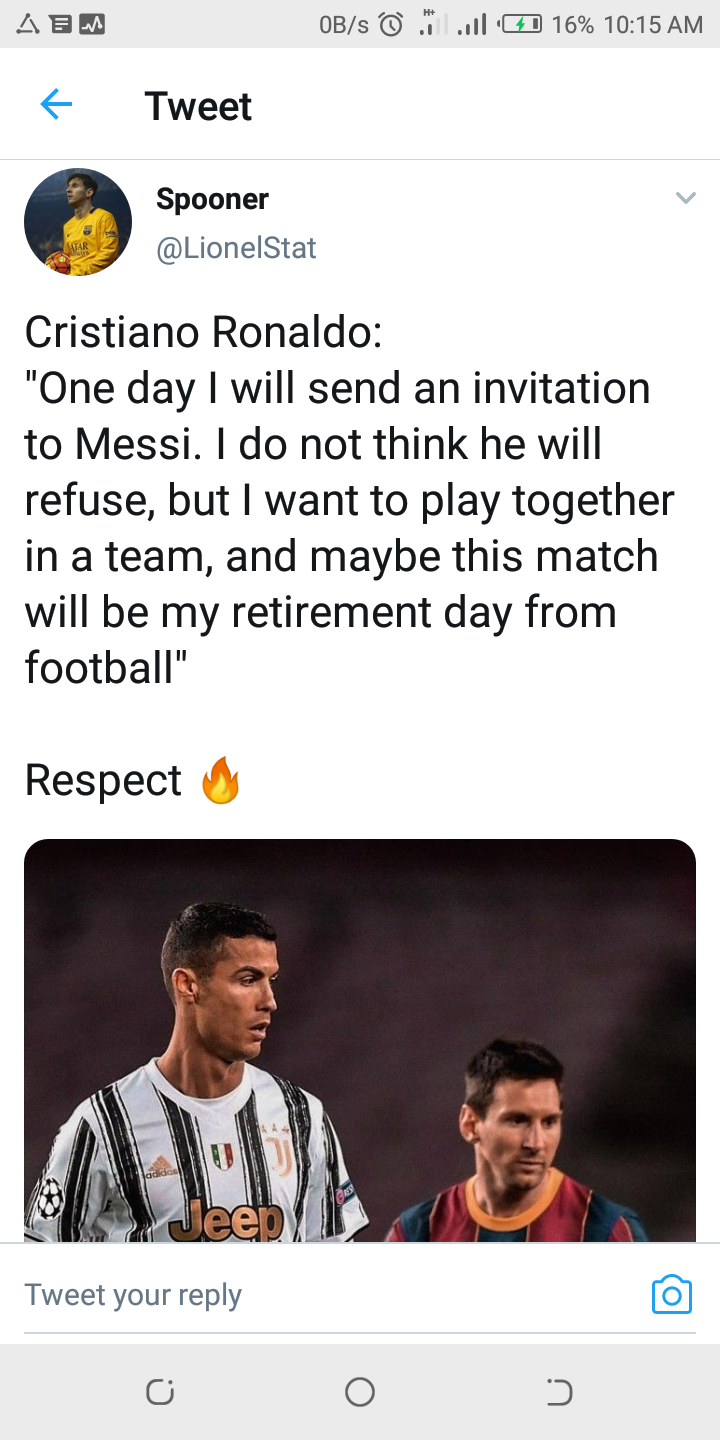 After Cristiano's request was laid on Spooner's Twitter page, it sparked the attention of many people. Therefore, numerous reactions followed. While many of them were excited and hoping for a day like that to come, others were seriously contemplating on what is likely to happen if these two world-class footballers play for one football club.
See some of the comments that followed CR7's humble request he is yet to relay to the Barcelona man, Messi;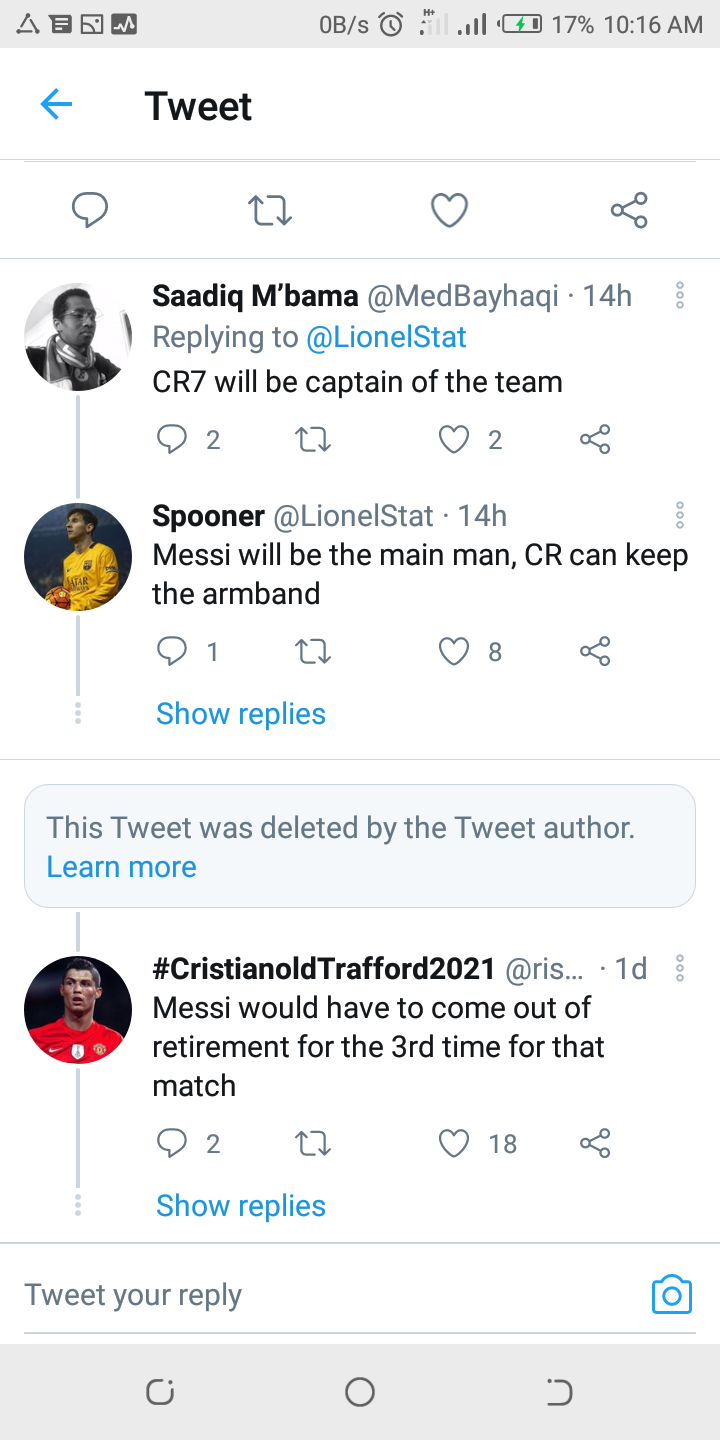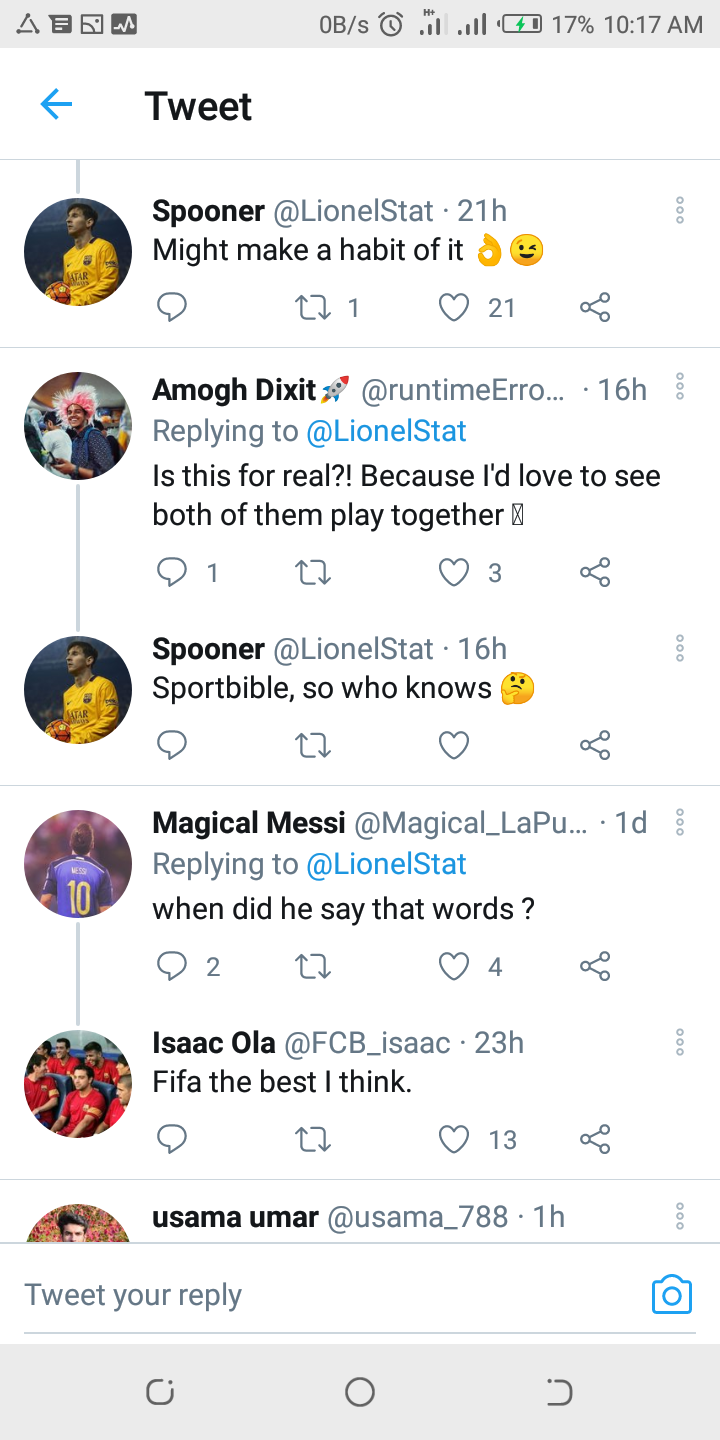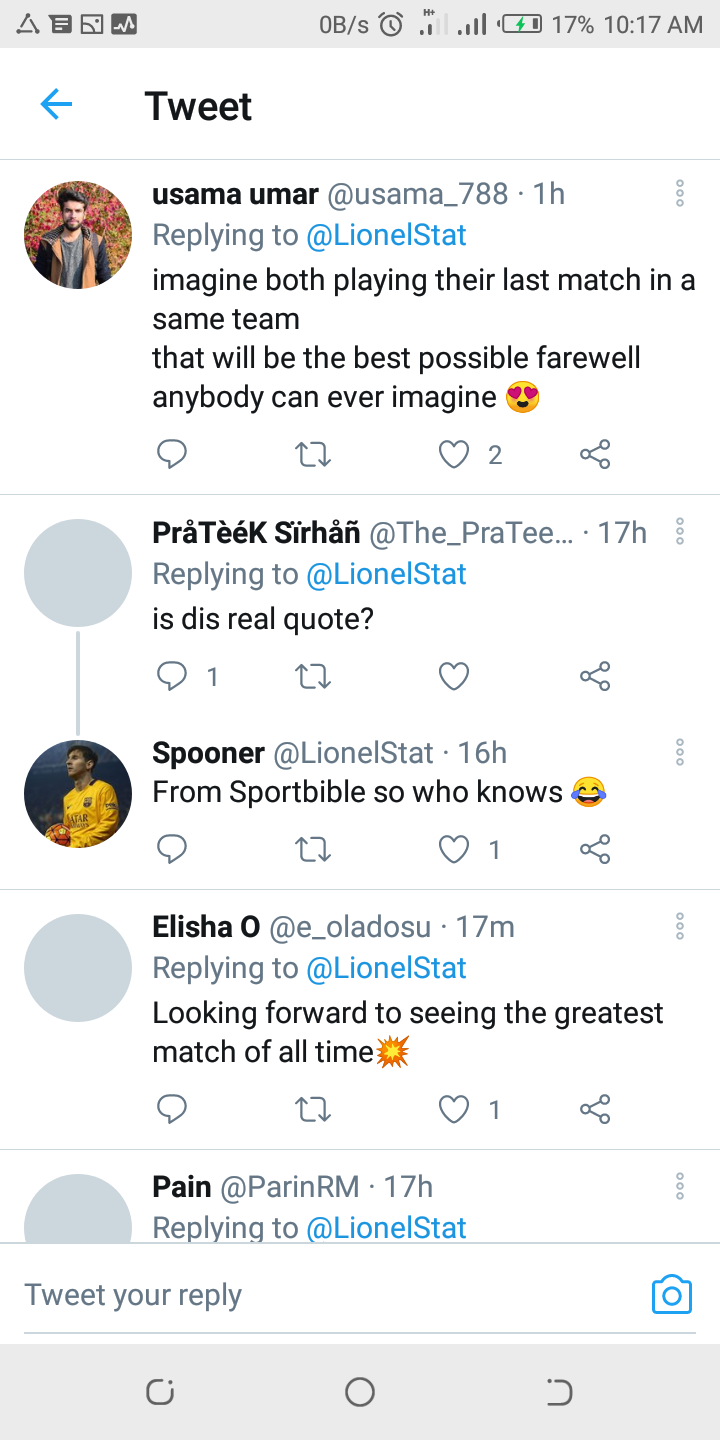 Share this article. Follow this page for more news across the globe.
Content created and supplied by: DAS_TV (via Opera News )