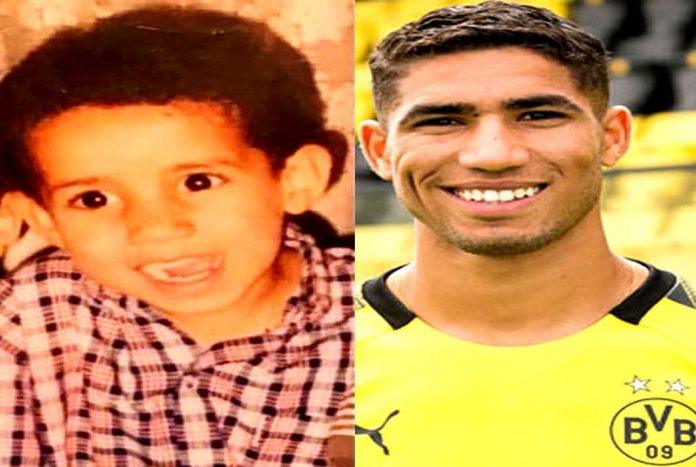 He bears the nickname "Arra". Achraf Hakimi Mouh was born on the 4th day of November 1998 at Madrid in Spain. He is the first of three children born to his lovely mother and father who were once income earners. Did you know that the defender is both a Spanish and Moroccan national? Truth is, Achraf Hakimi's parents were Moroccan migrants who arrived Spain long before he was born.

Thus, Achraf possesses pure African family origins despite being raised in a European country – precisely at Getafe, in Madrid, Spain. He spent his early years alongside his brother Nabil (whom he regards as his best friend) and sister Widad.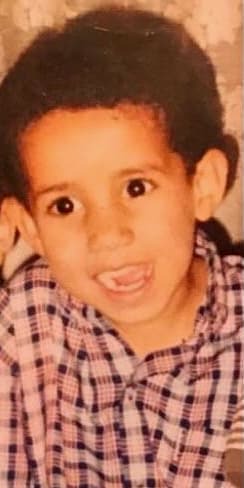 Growing up in Getafe at the Southern suburbs of Madrid, young Achraf was an energetic kid whose mom often spoke of her desire to see him try his luck in athletics particularly swimming. However, Achraf knew his passion lay in football. As such, he did not stray away from playing the sport which he knew would someday lift his family from their poor financial state.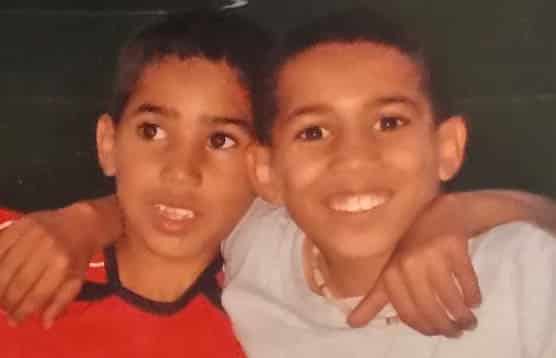 Achraf Hakimi's family struggled with monies when he was a little child. As regards his poor family background, his dad was a street vendor while his mom was a home cleaner. Having known that, you've probably realized that Achraf Hakimi's parents did toil to earn a lot to earn a living in order to fulfil their son's footballing dreams.
In return for their struggles, Achraf made his parents happy by keeping their hopes about his breakthrough in football. Such positive news made them even work harder, toiling day and night. Notwithstanding, Achraf Hakimi's parents were still able to raise monies to afford sporting kits like modest football boots and other kits to support Achraf.
First was Achraf's disposition to taking his training at local club Deportivo Colonia de Ofigevi very serious. It was at the local club that young Achraf first took his first steps in competitive football. While the youngster was at it, he became less serious about academic education.
In fact, he was more of a footballer than a student. Achraf's parents initially did not approve of the development but it wasn't long before they made peace with the fact that he has found purpose in football, a sport they would prefer to have the youngster play than watch him become a nuisance.
At the peak of his training at local club Deportivo Colonia de Ofigevi, Achraf became a promising footballer whose talents did not escape the high-end taste of a scout from Real Madrid.
In that manner, an 8-year-old Achraf was brought to Real Madrid academy where he began training with the club's Benjamin setup before he grew old enough to be admitted into the club's La Fábrica youth systems.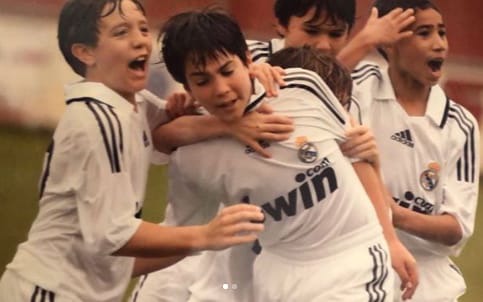 While at the youth system, Achraf rise through the ranks was seamless and his skill set was exquisite. What more? he had just the right character to earn promotion into the club's senior team.
The promotion came in the year 2016 and was immediately followed by Achraf's ascendancy into the Los Blancos main squad as a backup to Dani Carvajal and Nacho Fernandez in 2017.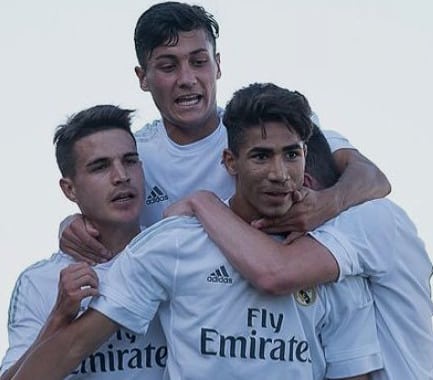 Wearing the number 19 jersey, Achraf impressively made perfect his integration and familiarization with Real Madrid's first team. In fact, he found the back of the net twice for his side in La Liga games during the 2017/2018 season.
What more? he made two appearances in the 2017–18 UEFA Champions League competition that saw Real Madrid lift the title for the third consecutive time. With the development, Achraf became the first Moroccan player to win the Champions League. The rest, as they say, is history.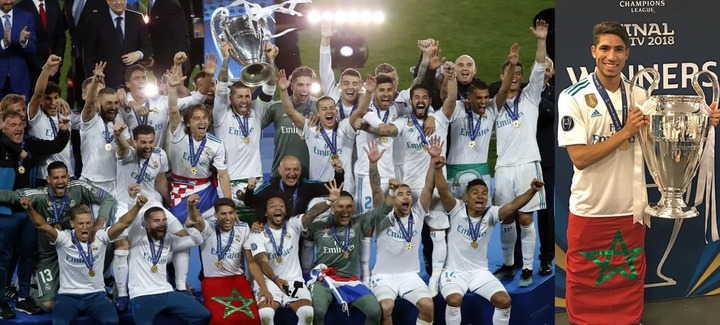 Moving on to Achraf Hakimi's love life, public interest in the defender's romantic engagement with his girlfriend Lucía Utrera Valenzuela began in 2017 when he got his chance to play for real Madrid's first team. Although the lovebirds struck fans as a perfect pair, they were never meant to become husband and wife.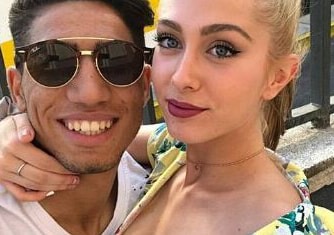 In 2018, Achraf Hakimi began dating the worlds' most beautiful actress Hiba Abouk who is 12 years older than him. The defender took to social media to reveal his new girlfriend Hiba Abouk by sending her romantic birthday wishes. Hiba is a Spanish actress who is reportedly 12 years older than her heartthrob. Who cares!! age is just a number.
Both Achraf and Hiba were joined together in a private marriage ceremony on an unknown year and date. But we sure know the date which Achraf Hakimi's wife gave birth to their first son. It was on the 12th day of February 2020.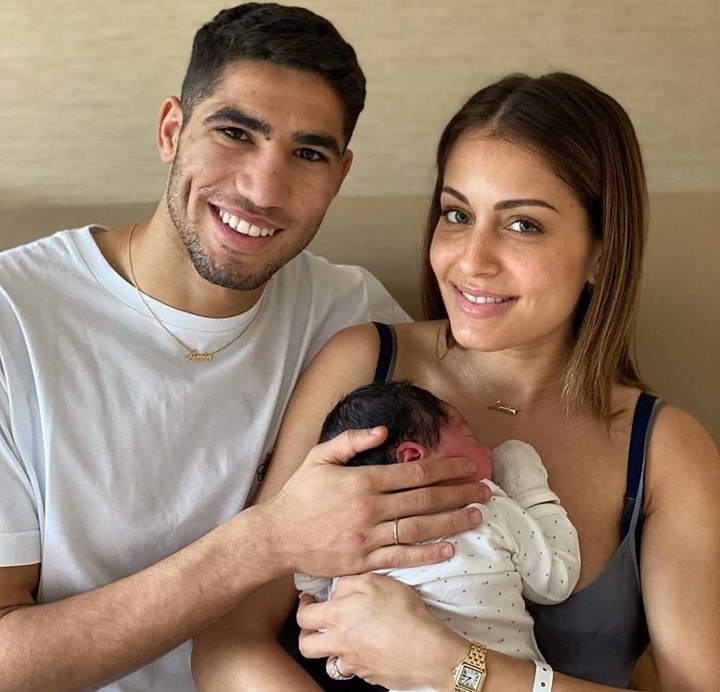 There are a number of football geniuses who owe their success in football to the sacrificial efforts of their parents and family. Our very own footballer is one of them. In this section, we'll bring you more facts about his Achraf Hakimi's family members starting with his parents.
The defender parents name are yet unknown. They possess Moroccan family roots and reportedly came into Spain as Moroccan migrants when they over 20 years old. Achraf father's home town in Morocco is at Oued Zem while his mom is from Ksar el-kabir in the same country.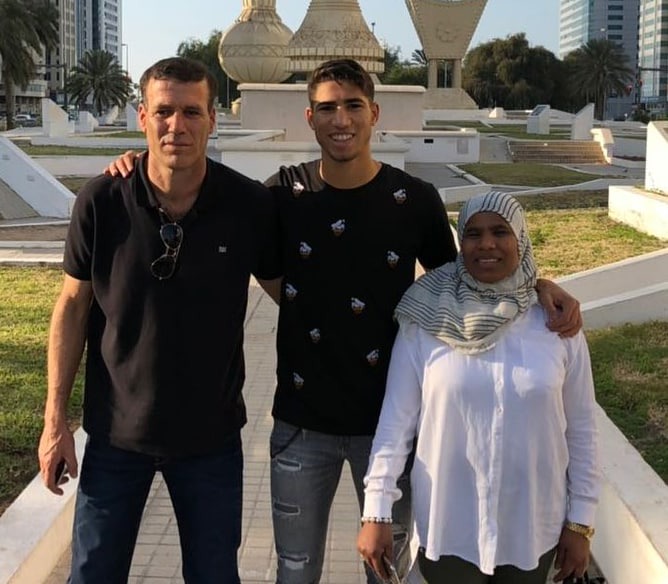 Achraf Hakimi's parents are being credited for having faith in their son's football endeavors during his early life. They gave him everything to ensure his success. As a result, the defender plays to appreciate his dad and mom's commitment to his future regardless of the fact that they were low-income earners who did menial jobs as a street vendor and home cleaner respectively.
The Hispanic-Moroccan has two siblings. they include his look-alike brother Nabil as well as look-alike sister Widad. Not much is known about the siblings who both love and support their celebrity brother. Regarding the defender's extended family life and ancestry, not much is known about his maternal and paternal grandparents while his uncles, aunts, nephews and nieces are yet to be identified at the time of writing this biography.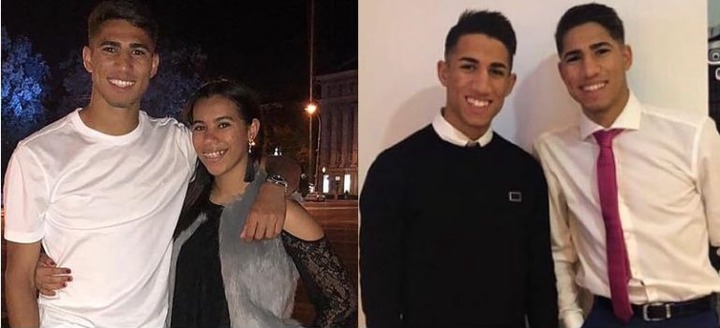 What makes the footballer tick and of what nature is his off-pitch personality? this is an opportune moment to behold facts about the striker's persona in order to help you get a complete picture of him. To begin with, Achraf persona reflects traits of individuals whose Zodiac sign is Scorpio.
He is passionate, intuitive, ambitious and open to revealing facts about his personal and private life. The defender's interests and hobbies include listening to music, travelling, boxing and spending good time with his family and friends.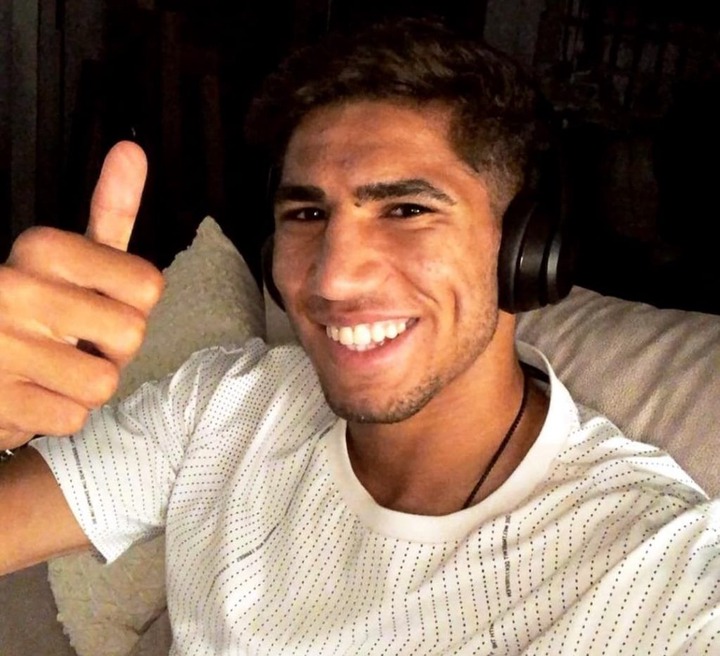 Speak of Achraf Kakimi spending habits and money-making endeavors, he earns considerably well in salaries and wages for playing top-flight football while endorsement is a contributing stream to his estimated $2 million net worth.
As a result, the defender's luxurious lifestyle doesn't surprise fans especially when they spot him riding in exotic cars or eventually get to know about the value of the house or apartment which he lives in.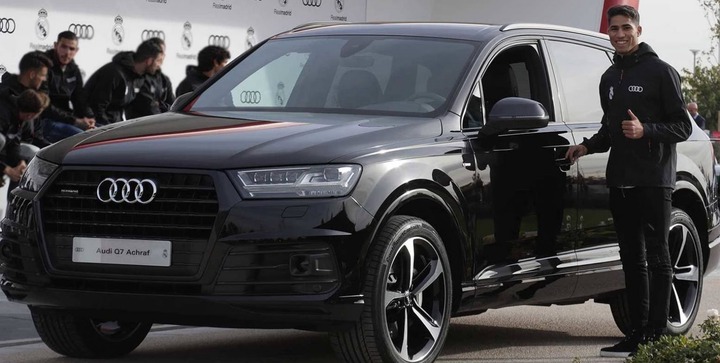 Fact #1: Salary Breakdown:
Since his arrival with Dortmund, lots of fans have asked the question; how much does Achraf Hakimi earn?…. Upon signing for the German club, the footballer's contract saw him pocketing a whopping salary of 1.5 Million Euro per year. Below is Achraf Hakimi's salary breakdown per year, month, day, hour, minute and seconds (as of March 2020).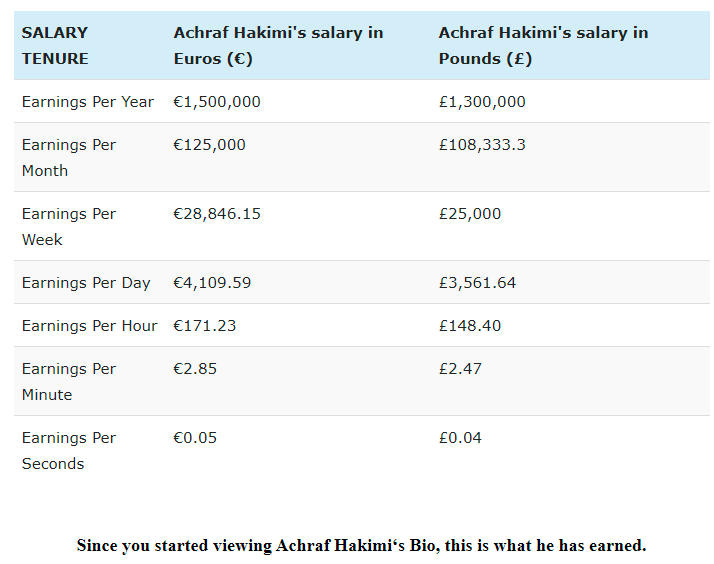 Did you know?… The average man in Spain needs to work for at least 7.4 years to earn €144,833, which is the amount Martin Braithwaite earns in 1 month.
Fact #2- Fifa Ratings:
The defender has an overall rating of 81 as at February 2020. Though not high, the rating speaks of how well the defender is faring in top-flight football even on loan at Borussia Dortmund where he plies his trade at the time of writing.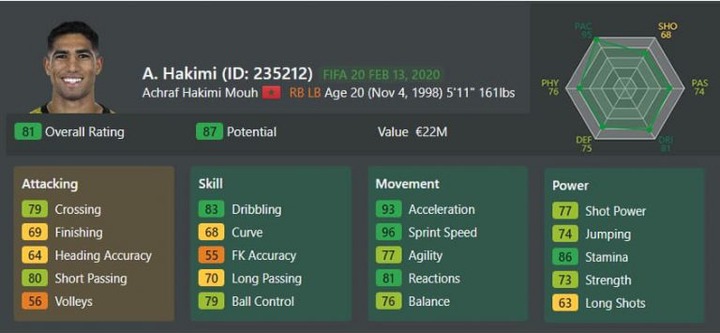 Fact #3- Tattoos:
Achraf has no tattoo or body arts at the time of writing this bio. Instead, he is seemingly keen on flaunting his six packs which go well with his height of 5 feet, 11 inches.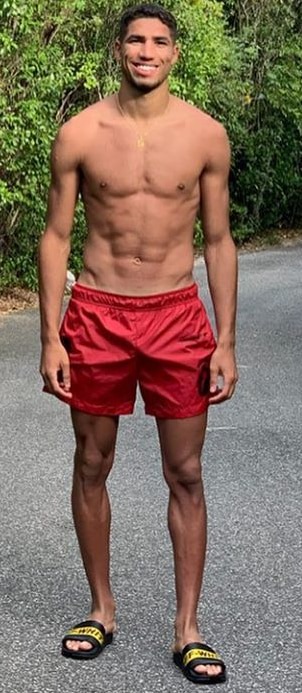 Fact #4- Religion:
Judging by his looks and name, you could easily guess that Achraf Hakimi's family members are likely to be Muslims. There is no denying the fact the defender is a practicing Muslim. The religion is first made evident in his name Hakimi. What more?… He is married to a wife who holds a degree in Muslim culture and he wishes Muslims 'Ramadan Mubarak' on Instagram.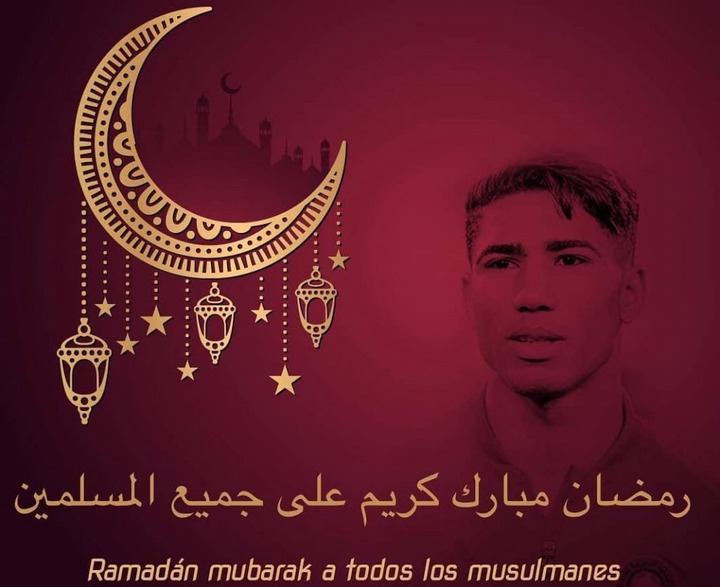 Fact #5- Smoking and Drinking:
Thanks to his Islamic beliefs, Hakimi would hardly flirt with the thoughts of taking hard drinks. However, not much is known about his views on smoking but we sure know that he would not do anything capable of compromising his health and fitness.
Fact #6- Achievements at 21:
Being only 21, Achraf Hakimi has acquired 5 individual and club honors to his name. Pictured below, this fact proves he is of the best young talents in world football, a future world best perhaps. What do you think?…
Content created and supplied by: Douglas22g (via Opera News )