Thank you for reading my article just complete this by liking and commenting on it below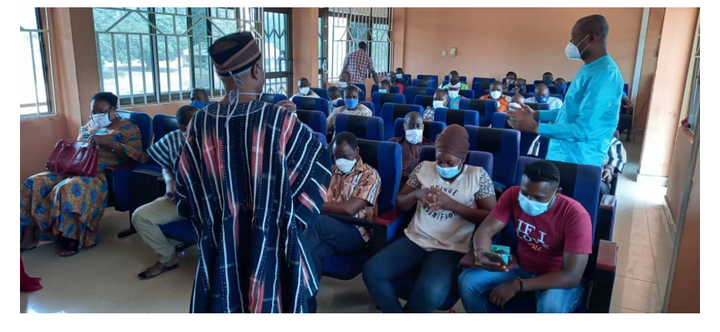 On the 19th of February, 2021 the Bole-Bamboi district health directorate of Ghana held an emergency committee meeting to discuss worrying issues like covid-19, Ebola and meningitis etc at the Bole district assembly conference hall.
Dr. Nindoow Alphosus the medical superintendent of Bole district hospital educated the audience on how to protect themselves by practicing social distance, washing of hands under clean running with soap, also sanitizing our hands as well, wearing of face masks, ensuring proper ventilation in our rooms, worship centers and schools and finally, avoiding crowded places.
Speaking on the covid-19 vaccines, the doctor said, the vaccines are not in Ghana currently and will be in Ghana by march this year and will be safe when they are brought in the country.
He again touched on how the vaccines will protect everyone who is vaccinated therefore, he is entreating the general public to embrace the vaccines with positivity and take the vaccines when they are finally in the country.
Also speaking to Nkilgi FM is Mr. David Bakuri who is the director of Bole health directorate pleaded with the people of the Bole district to adhere to the protocols of covid-19 to minimize the spread of the viral disease.
But Mr Bakuri stated categorically clear that, when people are not practicing the covid-19 there will be a time security agencies will be invited to enforce the practices of the protocols of the viral disease.
Another high personality who spoke in the course of the meeting is the member of parliament for the Bole-Bamboi constituency, hon. Sulemana Yussif Ori. The MP called on his constituents to take the covid-19 and its protocols to be practiced seriously because now the rate at which the virus is spreading is very high as compared to previously when it entered the country.
Thank you for reading my article just complete this by liking and commenting on it below
Content created and supplied by: jjlobationisamaestro (via Opera News )