The quick answer to this is yes, they do. But let's have a further look into who might be pursued.
We know for a fact that Erling Haaland is the priority for Chelsea this summer, and The Blues are one of only a few clubs who are able to afford his large fee.
I have no idea what that fee is right now, but I believe the £150-£160m that is being reported is higher than what he will end up going for.
However, we know how hard of a deal this will be to pull off for any club, for a number of reasons.
So do Chelsea REALLY want a striker and if so, is it Haaland or nothing?
Well, I will reiterate, Haaland IS the priority for Chelsea and right now, they are not even thinking about making a move for an alternative.
However, IF things move along and it is looking unlikely that they cannot land Haaland at all (if it turns out they can get him next summer instead, they will probably wait), Chelsea as always, will have a shortlist of other players they are considering.
As we told you at the start of March, Romelu Lukaku IS a player under consideration. But that is as far as that has gone right now, and probably will unless Haaland is unattainable this summer or next summer.
Are there any other strikers Chelsea are considering?
Well, historically Chelsea have scouted Andrea Belotti from Torino in recent seasons, and he is actually having a decent season in Serie A this season, he performances will still be being watched.
Yes I know, he was purely just one of the previous flavours of the week, and probably over-hyped by some right? But you cannot ignore his athleticism, powerful shot ability, natural goal scoring awareness, and his record over the years.
He has been consistently averaging 20 goals a season for the last 5 years, which is nothing to be ignored.
I also believe his attributes fit what Chelsea want as an all-round striker and despite some dips in form in times, I still think there is a top quality striker there.
Belotti is 27-years old now, and has averaged a goal every other game this season so far.
But in terms of any other serious targets under consideration by Chelsea right now, we do not have any other solid names.
In terms of speculation, other names that could be looked at by Chelsea are..
Dominic Calvert-Lewin (Everton)
He might have to make do with playing in Harry Kane's shadow for England at least for now, but this is one top quality striker who has really developed into a monster in the last couple of seasons.
The former Sheffield United academy player is very technically brilliant, good in the air, good with the ball and interlinking, and he is a natural goal scorer. What is not to like?
He has just turned 24-years old now and will be improving still, about to hit his best 5 or 6 years as a player.
For Everton last season he bagged 15 goals, and he has already got 19 this season - a true goal scorer.
If you want that all round striker who can hold the ball up, drive with it, link up play, and score all kinds of goals – Calvert-Lewin is your man.
Alexander Isak (Real Sociedad)
The Swedish international is a bit more of a wildcard addition, purely because he is still relatively unproven. But he is certainly worth considering.
At 21-years old standing at 6ft 4in tall already, he is confidently dubbed 'the next Zlatan' by his supporters, and he already has 18 caps and 5 goals for Sweden to his name.
He scored 16 goals first season in La Liga last term, and he is on 12 goals so far this season. Of course he would be a risk for any big team signing him, but I have a feeling he could certainly be on the lips of many more in years to come.
Andre Silva (Eintracht Frankfurt)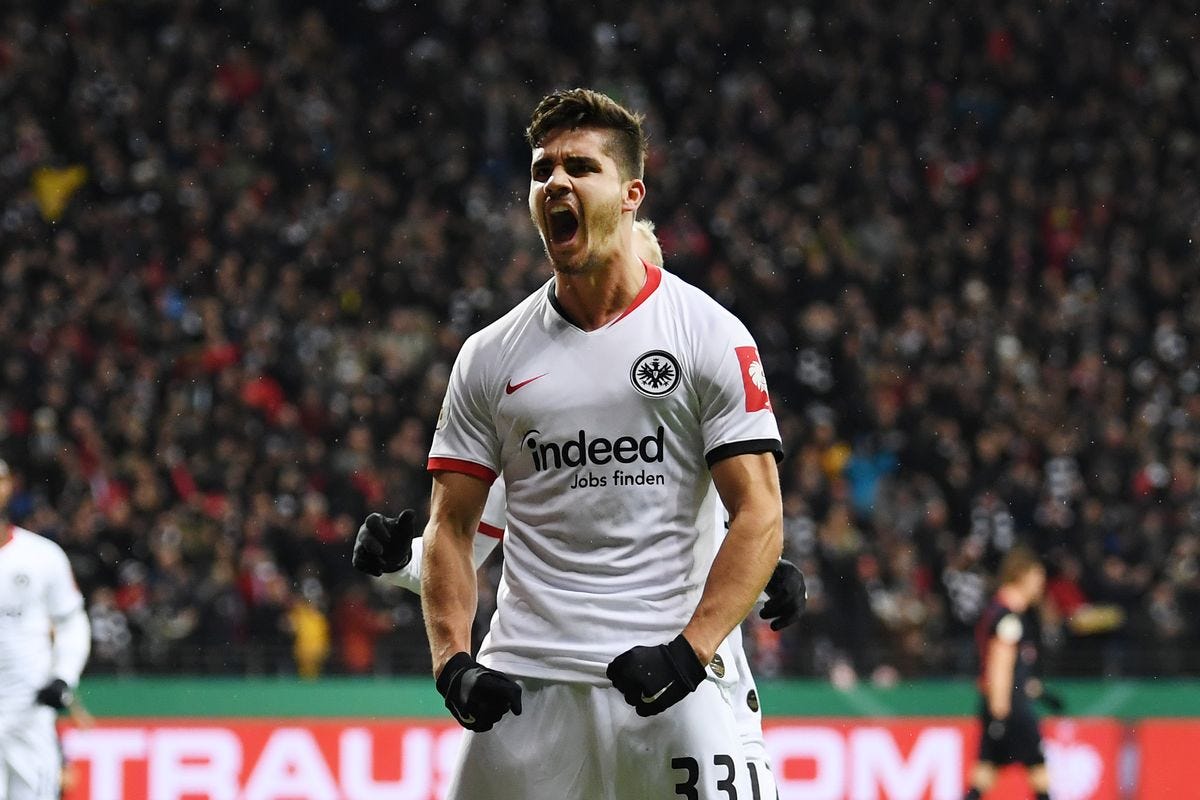 Formerly of Porto and Milan, Silva has really started coming into his own in the last few seasons first on loan at Sevilla, now with Frankfurt in Bundesliga.
Silva has bagged 22 goals in 26 games already this season, and has notched up 107 in 287 career games.
Standing at 6ft 1in, the 25-year old Portuguese international has also been a regular scorer for the national side, getting 16 goals in 38 appearances so far.
Silva creates as well as scores goals, and he is the epitome of a modern day striker. His qualities would most certainly fit what Chelsea are looking for.
I'm sure there are many more other names we could look at, I'm sure you guys have some ideas? Maye drop them in the comments and I'll do some scouting…..
Content created and supplied by: Teepee1 (via Opera News )