Drama Occurs After Getafe Defeats Barcelona - Messi Puts On A Disappointing Performance
Barcelona faced off against Getafe in this La Liga season. Barcelona played well in this match but they could not bear fruit hence, Getafe had the last laugh. Here below is a brief highlight of the match.
At the earlier minutes of the match, the stadium was dry with no goals recorded from both teams. Barcelona had chances upon chances to score a goal but today was not their lucky day as all their goal attempts were nothing but futile.
Despite the fact Messi played well, still he and his teammates were still struggling over a cheap team like Getafe FC as they could not even score one goal in the first half. At the end of the first half, the scores stood at 0-0.
During the second half, Barcelona still displayed the same performance and that really costed them the match. Getafe did not really put on a sterling performance in this match but luck fell on them as they broke the tie thanks to a penalty goal by Jaime Mata at the 56th minute of the match.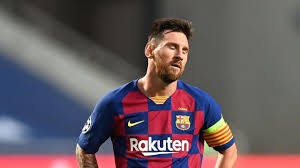 Getting to the end of the match, Barcelona still could not equalize. The players cried out for penalty as Fati went down to the ground as a result from D. Suarez, a Getafe player. Unfortunately, they could not get it. At the end of the match, the score struck at 1-0 with Getafe defeating Barcelona by one goal to nil.
What a disappointing performance!!
Content created and supplied by: MarvelousJude (via Opera News )