Ronald Koeman was "very proud" of his players this Saturday, alluding to Granada's comeback , and repeated that Barcelona "is on the right track", although he remained cautious about the game he will play against Betis, alluding to accumulated "fatigue" and repeating that this demanding schedule "is killing the players.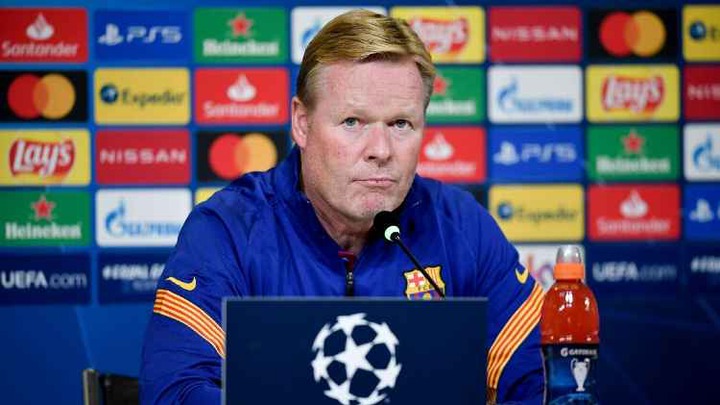 "This is difficult because you play too many games and very in a row. And more because of the covid. You have to have communication with the footballers. Know how they feel physically and sometimes you have to give them. Out of twelve games, we are going to play eleven away, and almost all of them. at nine o'clock at night. We have to help the players because it is not normal for them to play so much and so late. This is too much. We cannot go this way. Each coach has his opinion and this is mine. We are killing the players Someone will have to make a decision in the future about this, "denounced the Barcelona coach, who revealed that the results, at least, are" helping. "
"Travel, coming home late ... You can recover better when you win than when you lose and people are happy because we are doing a good job and we must be prepared," he resolved, repeating that it is time to maintain this regularity: "Always There are hopes. It depends on us. What we have in our hands is to prepare the games as well as possible and win because what Atlético does is not in our hands. They arrive very fresh because they do not play during the week and we have to keep winning, but it is very difficult. We are hopeful because we have improved things and the team is engaged. And this must be demonstrated tomorrow. "
"I cannot deny that the other day (in Granada) I was very happy and very proud of the attitude and quality of the team. But I don't know for how long because football is a rare sport. Today we have the sun and tomorrow it may rain You have to go game by game ", he declared, highlighting the reaction capacity of his team in the Cup game and hoping to transfer that moment to the League.
"It is not good that before the game I say which is the most important. The most important game is always the next one. We know that we are in the Cup semi-final but we have to go day by day. That is the best way to prepare the games" He responded when asked about possible rotations, not clarifying whether Araújo could rest.
"You have to see what is best for each one. Like other players, he takes many games but we have to face a difficult week. If there is a risk, we will have to reserve the player. That is something we have to decide yet" he said without giving more clues.
Reserved when referring to Ansu Fati , of whose relapse he did not want to elaborate , stating that "out of respect for the player, I am not the person who has to talk about his issue and his recovery . If there is something inside, we will communicate it. The most important thing is that it is recover with all the peace of mind because you have a lot of future ahead of you and you have to do things well and I will not go into this issue any more, "he confirmed that Sergi Roberto is" ruled out for the first leg against Paris Saint-Germain . Granada game told me that he was very well and without discomfort and he was injured after eight minutes. It is a stick for everyone but you have to have courage and recover and be well to help the team soon ".
"Physically the team is very well and has improved. If not, we cannot endure this level of matches in January with four extra time. It has been impressive how we have finished the extra time. The work has been good and the team is strong," he said. Koeman praising the physical effort of his players, among whom he had praise for specific cases.
"Dembélé? I can't know what happened in previous years with him. Physically he has improved a lot and has been in several games in a row. I have no doubts about his quality because he is great. He has one against one, depth, he plays with both legs .. I love it. He's in, he's happy and if he needs a break, we'll have to give it to him to get the best out of it, "he commented on the outside, while he was also very close with Antoine Griezmann.
"I remember calling him when I signed. I told him that I had a lot of confidence in him, that I wanted him to feel important. I have never had any doubts about Antoine and I really like that he also has self-criticism as a player. That is important because that way you can give your best. of yourself. You can't ask for more from Griezmann. "
Asked about the future of Lionel Messi, Koeman kept the same speech as always, remembering that "I already said that there is only one person who can decide on his future and that is Leo. I would like him to continue here for many years. And try to transmit good sensations so that he is happy. Because if he is happy, he is effective. He has morale and energy. The future is in his hands, "he summarized.
On the surprising substitution of Neto in Granada, he warned that he is not fixed in his ideas of rotating the goalkeepers in the different tournaments, leaving the title of next Wednesday in the air: "I am not like other coaches who let the second goalkeeper play yes or yes in the Cup. If we think Ter Stegen has to play, he plays. But I am not strict in saying that the Cup has to be played by the second goalkeeper. No. It depends on the form, it depends on the attitude, before deciding the team for a game. "
And on Gerard Piqué's words regarding the benefit of Real Madrid from the arbitration establishment he tried not to enter into controversy: "What Gerard says is his responsibility. I cannot speak of previous years and I can only comment on the games I have experienced. I don't want to say that we have the referees against us because I think that the referees whistle what they see. And there is also the VAR. For me the Granada penalty was not, but I think the referees have no preferences. "
Content created and supplied by: Kupacraft (via Opera News )