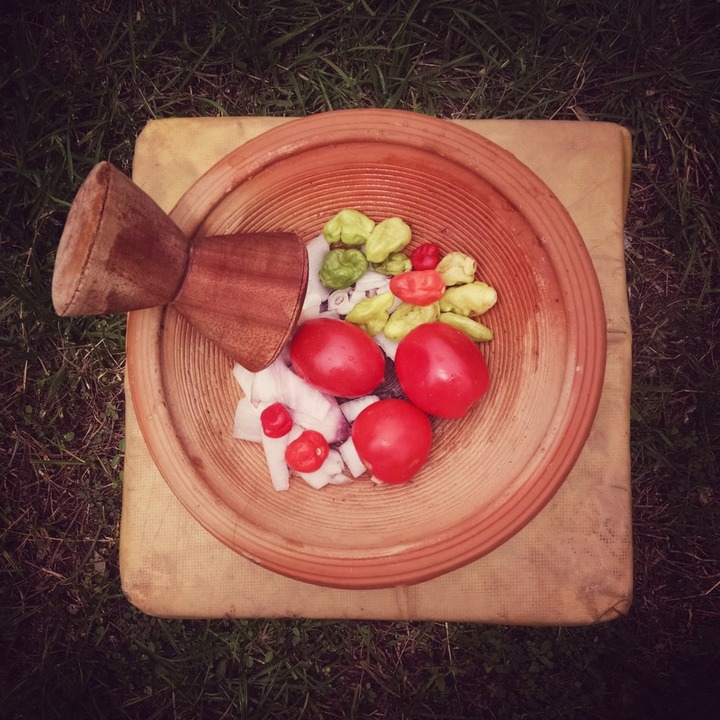 Like me you may be a Ghanaian brought up on arguably the most captivatingly delicious and wholesome meals anywhere in the world and just want a remainder of how awesome your culinary heritage is.
Who knows? You may just be wondering if all the fuss Ghanaian food enthusiasts make about Ghanaian food on the streets of London, Newyork, Amsterdam and else where in the is just merw hype. Perhaps you may be in the middle of planning a trip to Ghana and wondering what local foodie delights you'd be serenaded with.
We hope that this curated selection of 10 Ghanaian foods to try all will not only whet your appetite but, will inform and give you a unique insight into the various foods and dishes and where you can find them to try in.
Tatale
Tatale reminds me of how Ghanaians often vote in natural political elections. Blouse and skirt we call it. A strategy that sees voters vote for a president of a party but then intentionally vote for a local member of Parliament of a different party to the president
I guess its a way of balancing things out nicely. President Tatale is not had on its own. It's acconpany Member of Parliament is from the beans family locally called aboboi. The two go hand in hand like lovers yet to come out of that giggly infatuation honeymoon period.
The best way to describe Tatale to our English speaking readers is that it is similar to pancakes in its preparation but, made primarily with mushed over ripe plantain.
Kenkey and grilled Tilapia
The ubiquitous Kenkey is arguably coastal Ghana's favorite staple , cheap and cheerful, it lends itsself to various combos including grilled tilapia. Grilled tilapia symbolises and gives credence to Ghana's economic growth or at the very least economic potential.
As fishing stock dwindles some of Ghana's savvy entrepreneurs, such as Mike Amichi, have taken to farming tilapia to keep this fish on our dinning tables. Often grilled and adorned with chopped onion with shito on the side, grilled tilapia is now a revelation.
No decent restaurant worth its weight in gold could avoid having it on its menu and if its not paired with Kenkey then banku serves as an equally appetising replacment.
Y3l3 ( Yam Balls)
Some folks cannot do without that carbohydrates fulled energy that yam brings to the Ghanaian dinning table. Ofcourse whether boiled, fried or grilled yam is simply not only flavourful but incredibly versatile in combination with other foods. Y3l3 kakro is often prepared at home as a side dish
Ghana's puna yam vanety is normally the variety used which makes the end product mushy and soft on the palate.
Kelewele
Kelewele is heavily spiced fried and slightly overripe plantain sold mostly at night with roasted groundnuts. It is as streets food as street food gets.
Cheap, flavourful, convenient tuck in and a fixture in any night food market. Restaurants in Ghana would usually have kelewele as a starter or side dish for dinners to share on a platter as they wait for their mains.
Tip: Do not throw a party without kelewele on "tap" A word to the wise..............
Abobie ( Anchovh pepper sauce)
A remarkably simple get delicious side, Abobie is popular in the Volta Region of Ghana. If you ever happen to eat out in that region or can bag a friend or two from there then all means do ask them about Abobie.
As for me, I'd befriend potential Abobie makers not necessary for friendship.......but to beg them to make me this side dish!
Kontomire Omelette
Now this will almost certainly raise eyebrows in Ghana. Ghanaian food is dominated by centuries-old traditional foods passed down from generation to generation but, now and again even the most unadventurous Ghanaian cook or chef may create anew or fuse a couple of traditional or nontraditional ingredients together-kontomire omelette pays homage to the experimenters amongst us.
Mushrooms which are more synonymous to the west are added to this recipe to complete the fusion. This a futuristic interpretation of Ghanaian food.
Content created and supplied by: Sunsokin (via Opera News )