The covid-19 pandemic continues to prove a blow to the football industry and has affected many players' contracts as a result.
Teams are looking to let go of big-name players to make money from their sales. The problem is that while teams want to sell, who will buy these high priced and valued players?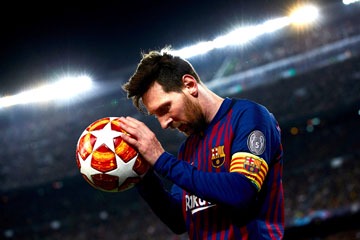 Today we look at a few big-name players whose contracts will be running out in a few months. Leading the pack is Lionel Messi of Barcelona FC. Messi will be out of his current contract in 6 months.
The 34 years old Ballon d'Or winner has a market value that is estimated around €72 million. He has been linked with moves to Manchester City and PSG. In the same boat is David Alaba of Bayern Munich. Alaba is valued at €58.5m and rumoured to be heading to Real Madrid.
Other players that are listed are Memphis Depay, Sergio Aguero, Angel Di Maria and Liverpool's Georginio Wijnaldum.
AC Milan have Hakan Calhanoglu and goalkeeper Gianluigi Donnarumma. Florian Thauvin from Olympique Marseille joins the list with Otavio (FC Porto).
What is interesting is the fact that after the contracts run out, these high-profile players will be free agents and teams can just go ahead and swoop them up for free.
Do you think that the advantage plays in the corner of the players or are the teams losing out of their investments?
Regardless, make sure that you join Powerbets to bet on your favourite teams. Here is a shortcut for you: https://www.powerbets.com.gh/gh/leagues/?leagueIds=sr:tournament:17&pbsrc=home_tournament_navi&utm_source=ONarticles&utm_campaign=Rashford210216
Content created and supplied by: Powerbetsghana (via Opera News )