Thanks for clicking on this article. Follow us for more of these articles and never miss any of our future post. Don't forget to give us a like and share, after reading.
Many football players often play for multiple clubs in different countries nowadays. There is this cliché that 'you are less valued when you play for a certain club in your entire career. Most footballers leave their former clubs for the much better salary other clubs are willing to give them, to get on the spotlight of top-notch football, when their performance in a club is not good, or when their contract expires without a renewal. Today, we take a look at 10 great footballers who optioned for only one club or were one-club footballers.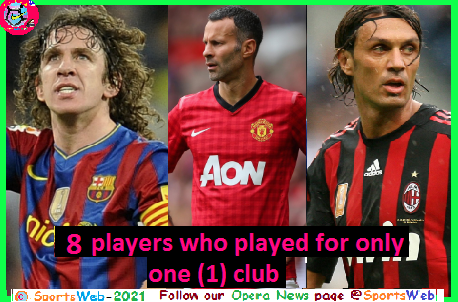 (1) Ryan Giggs. Ryan Joseph Giggs is a Welsh former professional footballer who is now a football manager. He is the manager of the Welsh national team and co-owner of Salford City. Giggs played his entire professional career for Manchester United in the Premier League. Giggs was born in Cadiff but moved to Manchester at the age of six when his professional Rugby player dad joined Swinton RLFC. Prominently a left-winger, he began his academic training with Manchester City, but joined Manchester United on his 14th birthday in 9187. He made his professional debut for the club in 1991 and spent the next 23 years in the Manchester United first team. He made a total of 963 appearances and scored 168 goals for Manchester United in all competitions. He also made 64 appearances, for the Welsh national team, and this makes him one of the only 28 players to have made over 1,000 career appearances.
(2) James Carragher. James Lee Duncan Carragher is an English retired footballer who played as a defender for Premier League club Liverpool during a career which spanned 17 years. A one-club man, he was Liverpool's vice captain for 10 years. And is the club's second-longest ever serving player, making his 737th appearance for the club in all competitions on 19 May 2013. Carragher also holds the record for most appearances in European competition for Liverpool with 149. Carragher started his career at the Liverpool Academy, making his professional debut in the 1996-97 season, and becoming a first team regular the following season. Having initially played as a full-back, the arrival of manager Rafael Benitez in 2004 saw Carragher move to become a centre-back, where he found his best form. His honours with Liverpool total 2 FA Cups, 3 League Cups, 2 Community Shields, 1 UEFA Champions League, 1 UEFA Cup, and 2 Super Cups. In all, he played 737 matches and scored 5 for Liverpool.
(3) Garry Neville. Garry Alexander Neville is an English football coach and former player who is also a co-owner of Salford City. After retiring from football in 2011, Neville went into punditry and was a commentator for Sky Sports, until he took over the head coach position at Valencia in 2015. After being sacked by the club in 2016, he returned to his position as a pundit for Sky Sports later that year. He was also assistant manager for the England national team from 2012-2016. As a player, Neville played as a right-back and spent his entire career playing with Manchester United, making him a one-club man. At the time of his retirement in 2011, he was the second-longest-serving player at the club behind his long-time teammate Ryan Giggs. And has served as club captain for five years. He is one of the most decorated English and European footballers of all time, having won a total of 20 trophies, including 8 English Premier League tittles and 2 UEFA Champions League tittles. Neville made his international debut in 1995 and was first-choice right-back for England for more than 10 years. Representing the nation at 3 European Championships and 2 World Cups. He is England's most capped right-back with 85 caps. He made 603 appearances and scored 7 goals for Manchester United in all competitions.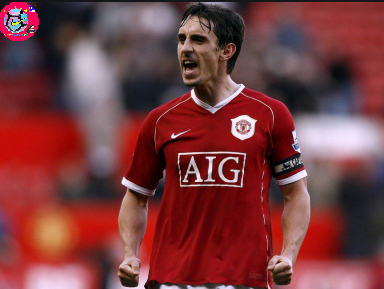 (4) Paulo Maldini. Paulo Cesare Maldini is an Italian former professional footballer who played as a left-back and central defender for AC Milan and the Italy national team. He is widely regarded as one of the greatest ever defenders, with some considering him to be the best ever, and as one of the greatest players of all time. As Milan and Italy captain for many years he was nicknamed 'Capitano'. Maldini held the record for most appearances in Serie A, with 647, until 2020, when he was overtaken by Gianluigi Buffon. Maldini spent all 25 seasons of his playing career in the Serie A with Milan before retiring at the age of 41 in 2009. He won 25 trophies with Milan: the European Cup/UEFA Champions League 5 times, 7 Serie A titles, 1 Coppa Italia, 5 Supercopaa Italiana titles, 5 European/UEFA Super Cups,2 Intercontinental Cups and one FIFA Club World Cup. Maldini won the Best Defender trophy at the UEFA Club Football Awards at the age of 39, as well as the Serie A Defender of the Year award in 2004. Maldini made his debut for his Italy in1988, playing 14 years before retiring in 2002 with 7 goals and 126 caps, an appearance record time, which has since been surpassed by Fabio Cannavaro and Gianluigi Buffon. Maldini captained Italy for eight years and held the record for appearances as Italy's captain, until he was again overtaken by Cannavaro and Buffon. Following his retirement after the 2008/09 season, Milan retired his number 3 shirt. He 902 appearances and scored 33 goals for the Serie A club AC Milan.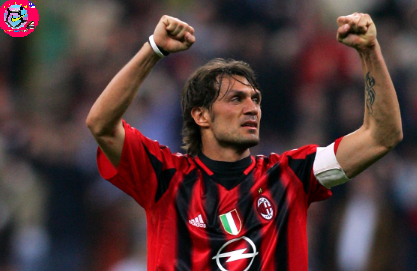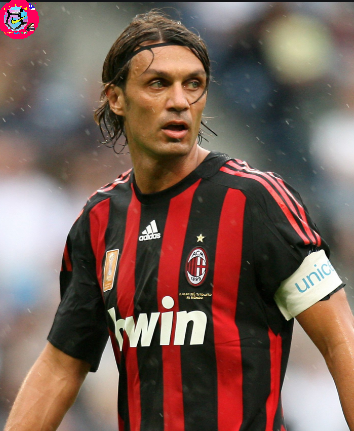 (5) William Wright CBE. William Ambrose Wright, CBE was an English footballer, who played as as a centre half. He spent his entire career at Wolverhampton Wanderers. The first footballer in the world to earn 100 international caps, Wright also holds the record for longest unbroken run in competitive football. His association with Wolves began in 1938, after being encouraged by his school teacher to respond to a newspaper advertisement inviting boys for trials. He was taken on as a member of their ground staff. He was only 14 years old when he made his debut for Wolves in a B team game against Walsall Wood in the Walsall Minor League. He had been accepted on an eight-month trial by Major Frank Buckley, who initially told Wright he was "too small" but changed his mind. He made his first team debut for the club aged just 15 in a 2-1 win at Notts County in 1939. He signed as a professional at 17, but the deeping effects of World War II soon forced Wolves to suspend competitive football. Wright turned out as a guest for Leicester City, playing as both a forward and a defender before he turned to Molineux in 1942. A bad ankle break put his sporting career in doubt, but he recovered, joined the army in 1943 as a physical training instructor. He played for Wolves whenever possible, making over 100 appearances in wartime football. He also made a total of 105 appearances for England, captaining them a record 90 times, including during their campaigns at the 1950, 1954 and 1958 World Cup finals.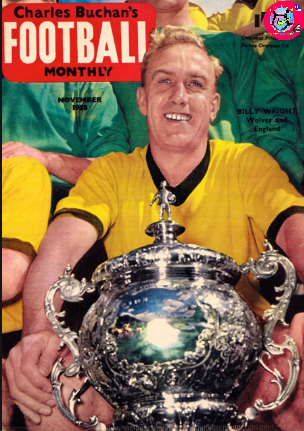 (6) Francesso Totti Ufficiale OMR. He is an Italian former professional footballer who played sorely for Roma and the Italy national team, primarily as an attacking midfielder or second striker, but could also play as a lone striker or winger. A creative offensive midfielder renowned for his vision, technique, and goal-scoring ability, Totti is considered to be one of the greatest Italian players of all time and Roma's greatest ever player. Totti spent his entire career at Roma, winning a Serie A title, 2 Coppa Italia titles, and 2 Supercopaa Italiana titles. He is the second-highest scorer of all time in Italian league history with 250 goals, and is the sixth-highest scoring Italian in all competitions with 316 goals. A 2006 FIFA World Cup winner and UEFA Euro 2000 finalist with Italy, Totti was selected in the All-Star team for both tournaments. He made 786 appearances and scored 307 goals in all competitions for Roma.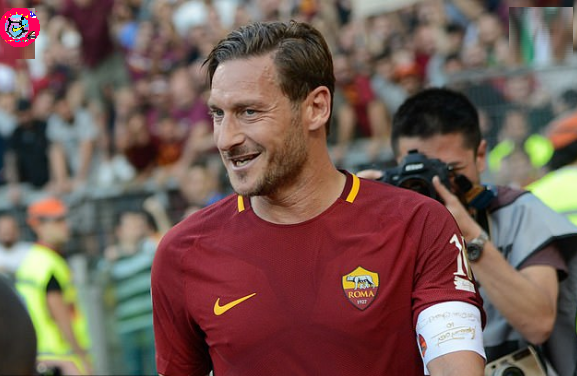 (7) Carles Puyol. Carles Puyol Saforcada is a Spanish retires professional footballer who played his entire career for Barcelona. Mainly a central defender, he could also play in either full-back position, mostly as a right back, and is regarded as one of the best defenders of his generation. He was Barcelona's captain from August 2004 until his retirement in 2014, and appeared in 593 competitive matches for the club. He won 18 major club titles, including 6 La Liga trophis and 3 UEFA Champions Leagues. Puyol won 100 caps for Spain, and was part of the squads that won the Euro 2008 and 2010 World Cup. In the 2010 World Cup semi-final, he scored the only goal against Germany. Barcelona bid farewell to Puyol on 15 May 2014, after a fiften-year career in the first team, that brought him 21 titles. He announced his retirement shortly after at the age of 36 but stayed with his only club; he was immediately appointed director of football Andoni Zubizarreta's assistant. He resigned in January 2015, shortly after Zubizarreta was fired.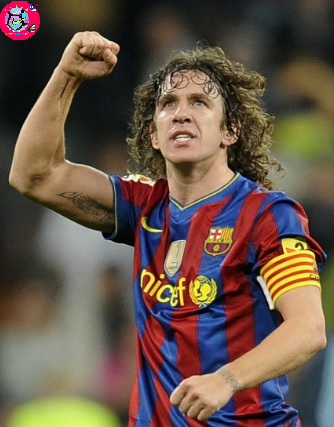 (8) Paul Scholes. He is an English football coach and former player, as well as co-owner of Salford Ciy. He spent his entire professional football career playing with Manchester United, for whom he scored over 150 goals in more than 700 appearances between 1993 and 2013. His first managerial position was at Oldham Athletic, for 31 days in February and March 2019. He also served as interim manager of Salford City in October 2020. Scholes came through the Manchester united youth academy as one of Fergie's Fledglings (a group of players recruited by Manchester United uner the management of Sir Alex Ferguson). Scholes made his full debut for Manchester Unites in the 1994/95 season. He went to make 718 appearances for United, the third-highest number of appearances by any player for the cub. Scholes announced his retirement from playing in May 2011 and was appointed as a coach at Manchster united. However, he returned to playing in January 2012, and went on to play one more season for the club before retiring again in May 2013. With United, Scholes won 25 trophies including 11 English Premier League titles (more than any English player) and 2 UEFA Champions League titles. Scholes represented the England national team from 1997 to 2004, gaining 66 caps and participating in the 1998 and 2002 World Cups, as well as the UEFA Euro 2000 and Euro 2004 tournaments. Scholes announced his retirement from Internaional football in August 2004.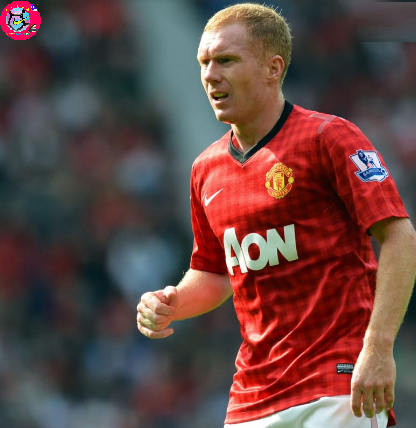 Well, thats all for today. Thanks for reading this article. Follow us for more of these good stuff and never miss any of our future posts. Gives us a like and share if you enjoyed it. Bye.

Content created and supplied by: SportsWeb (via Opera News )