Today's articles is about footballers whom strong foot are left. These players are very precious in football as they tend to be very deadly on the right plank. Read the full story to the end to enlighten your knowledge about these left-footers.
Left-footed players are rare in football but are unique in their style of play. Many great footballers like Lionel Messi, Antoine Griezman, Paulo Dybala, Gareth Bale and others share one thing in common: they are all left-footed. Here are the Top 10 footballers who are left-footed.
Hakim Ziyech is a professional footballer who plays as an attacking midfielder or winger for Premier League club Chelsea and the Morocco national team. With his left-foot, Ziyech has become one of the top playmakers in Europe as he has scored 98 goals and given 115 assists. He is known for his finishing, dribbling, long passes, technique and ability from free kicks. At 27, Ziyech has a lot of years ahead of him in his career and will definitely make his national side Morocco proud.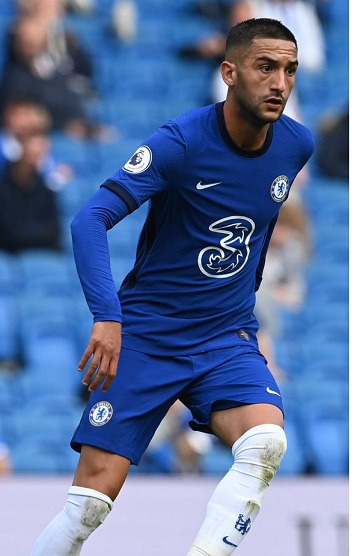 (9) Marcelo.
Marcelo Viera da Silva Junior is a Brazilian professional footballer who plays as a left-back for Spanish club Real Madrid and the Brazilian national team. Naturally left-footed, the Brazilian has been one of the key players in Real Madrid's success in Europe. Since debuting for the Madrid white team in 2006, he has established himself and won 22 trophies including 4 UEFA Champions Leagues as well as 5 La Liga titles. He has been named to the FIFPro World XI 6 time, the UEFA Team of the Year three time and La Liga's Team of the Season in 2016. Marcelo over the years has proved to be one of the best left-backs in Real Madrid's history.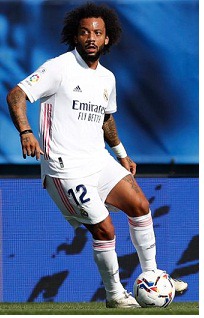 (8) David Silva
David Josue Jimenez Silva is a Spanish professional footballer who plays for La Liga club Real Sociedad. He is predominantly a left-footed footed player and is best known for his passing ability and possession-retaining qualities. He is considered by many to be one of the best midfielders of his generation, one of the technically gifted players of all time, and one of the greatest players in the history of the Premier League. At Manchester City, Silva appeared in over 400 matches and won 2 FA Cups, 5 League Cups and 4 Premier League titles. He is one of 13 Spanish players to have amassed 100 caps, he scored 35 goals in his international career, making him the 4th highest goalscorer in Spain's history, and also provided 29 assists, making him the second-highest assist provider in Spain's history.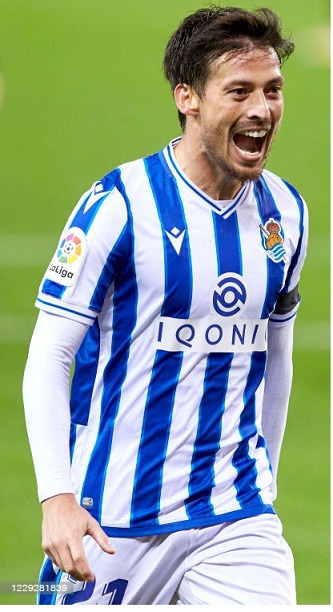 (7) James Rodriguez.
James David Rodriguez Rubio is a Colombian professional who plays for Premier League club Everton and the Colombia national team. He has been praised for his technique, vision and playmaking skills, and often referred as the successor to his compatriot Carlos Valderrama. In 2014, James moved from AS Monaco to Real Madrid for a transfer fee of €63M, which beat the one set by Radamel Falcao and made him the most expensive Colombian football player and one of the most expensive players at the time. He played in the 2014 and the 2018 FIFA World Cup for Colombia, winning the Golden Boot as the top goalscorer in the former tournament and being included in the Cup's All Star Team.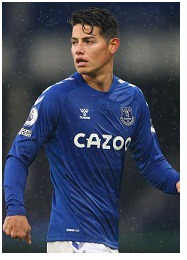 (6) Paulo Dybala.
Paulo Bruno Ezequiel Dybala is an Argentine professional footballer who plays as a forward for Serie A club Juventus and the Argentine national team. Considered as one of the world's most valuable players, he is renowned for his creative style of play, pace, talent, technique and eye for goal. In 2015, he joined Juventus for an initial fee of €32M and has since then made over 100 appearances for the club, winning the double of Serie A and Coppa Italia in his first three seasons, as well two more consecutive league titles, and two Supercoppa Italiana titles. He has also been named in the Serie A Team of the Year three times and won the Most Valuable Player award for the 2019-20 season.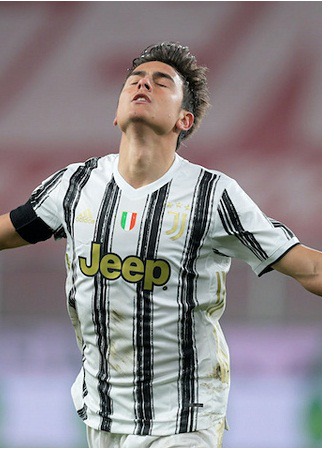 (5) Gareth Bale.
Gareth Frank Bale is a Welsh professional footballer who plays as a winger for Premier League club Tottenham Hotspur on loan from Real Madrid of La Liga and the Wales national team. Bale began his professional career at Southampton where he earned acclaim as a freekick specialist as he scored 4 freekick goals out of 4 free-kicks he got. Going to Tottenham, he didn't stoop to shine despite the major injuries he had that made him undergo several surgeries. In 2013, Spanish club Real Madrid signed a six-year with him for a world record transfer fee £85.1M. Before going on a season-long loan to Tottenham Hotspur on 19th September 2020, Bale scored over 100 goals for the 'Morenges'. He truly is a world class player.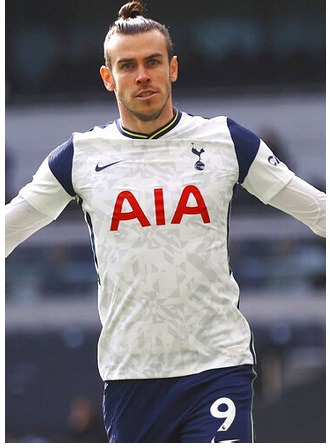 (4) Antoine Griezman.
Antoine Griezman is a French professional footballer who plays as a forward for Spanish club Barcelona and the France national team. Griezman began his senior career with Real Sociedad in 2009, with whom he won the Segunda Division in his first season. With his deadly left-foot strikes, the whole Europe knew Antoine was special. Atlético Madrid needed to see no more as they broke their-then club record £30M. In his first season for the red and whites, he broke their scoring record for a season and was named in the 2014-15 La Liga Team of the Season. In 2016, he was voted La Liga Best Player in 2016 and finished third for both Ballon d'Or and Best FIFA Men's Player in the same year. At the end of his career for Atlético Madrid, he scored 133 goals with more than 80% coming from his left-foot.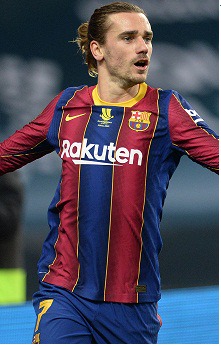 (3) Di Maria.
Angel Fabian Di Maria is an Argentine professional footballer who plays for Ligue 1 club Paris Saint-Germain and the Argentine national team. Considered as one of the best midfielders in his generation, Angel is best known for his deadly left-foot cross and free-kicks. In 2010, Fabian moved from Benifa to Real Madrid where he won a La Liga, Copa Del Rey title, and a UEFA Champions League and Super Cup. At the end of the 2012/13 La Liga season, Di Maria was the top assist maker with 17. After having the poorest season of his career with his new club Manchester United, he was sold to PSG a year after his arrival. Di Maria on going to PSG has proved to be hit as he has won the Ligue 1 title 4 times; emerging as top assist maker in each occasion, the Coupe de France 4 times and came runner-up in the UEFA Champions in the 2019/20 season.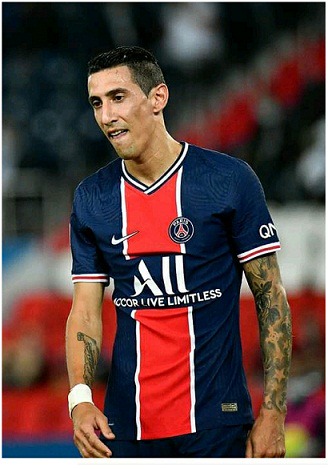 (2) Erling Haaland.
Erling Braut Haaland is a Norwegian professional footballer who plays as a striker for Bundesliga club Borussia Dortmund and the Norway national team. A prolific goalscorer at his young age, Erling is considered by many as the next big thing in football. What most people don't know is that Braut is a left-footed player. He stated his carer at his hometown club Bryne in 2016 and moved to Molde the following where he spent just two seasons with them before joining Red Bull Salzburg in January in 2019. There, he became the first teenager to score in five consecutive UEFA Champions League matches during the 2019/20 season. After completing a transfer to Borussia Dortmund, he continued to shine and won the 2020 Golden Boy award. He's only 20 years but has broken many rerecord and scored numerous goals. His future is very bright.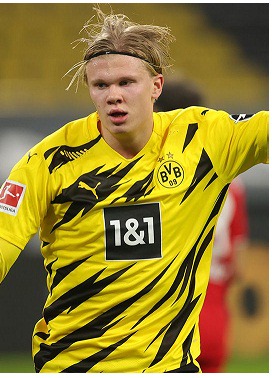 (1) Lionel Messi.
Lionel Andres Messi is an Argentine professional footballer who plays as a forward and captains both the Spanish club Barcelona and the Argentina national team. Widely considered as one of the greatest footballers of all time, Lionel has won a record six Ballon d'Or awards. A goalscorer and a creative playmaker, Messi holds the records for most goals in La Liga (460+), a La Liga and European League season (50), most hat-tricks in La Liga (36+) and the UEFA Champions League(8) and most assists in La Liga (189+), a La Liga and European League season (21) and the Copa America(12). Messi's left-foot finishes are the deadliest and clinical. He has scored over 750 senior career goals for club and country. He is truly a legend.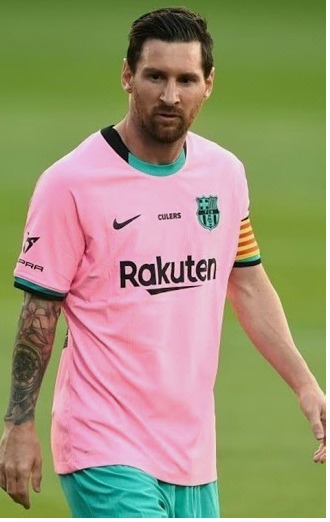 This brings us to the end of today's article. Write down in the comments section players who you think should have been added to this list. Make sure to follow this page if you haven't yet and drop a like if you liked this article. Stay tune for more interesting soccer facts like this one.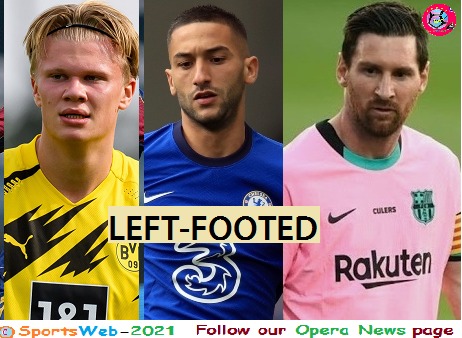 Content created and supplied by: SportsWeb (via Opera News )