1. Klopp: "I didn't understand it. Trent was in the last two seasons at least the standout right-back in world football."
2. Juventus have punished Weston McKennie, Arthur Melo and Paulo Dybala for breaking the COVID protocol, but treated talisman Cristiano Ronaldo differently earlier this year.
3. Thomas Tuchel about Agüero-Chelsea links: "Same answer as for Haaland. We have full respect for Man City. There is no words needed, he's a world-class player. But we have three competitions in which we are in with City so I won't speak about their players".
4. Marco Verratti will miss PSG's clash with Bayern Munich next week after testing positive for COVID-19.
5. No fixture in Premier League history has seen more goals scored than Arsenal vs Liverpool (166). 94 of these goals have been scored by Liverpool, the most goals the Gunners have shipped against a single opponent in the competition.
6. Pep Guardiola: "With the economy in world football now, there's more chance we are not going to sign a striker this summer.With current prices, we are not going to buy any striker. It's impossible, we can not afford. All clubs struggling financially, us as well".
7. Materazzi: "Inter's new logo shows the spirit that Inter had, which is the no 1 team Milan has. Abroad we are known as Inter. A lot of respect for Milan who have done so much in Europe, but when you go out of Italy, the city of Milan is known because of only Inter.
8. Toni Kroos, "The fact that the World Cup will be in Qatar is wrong. The workers work non-stop, in 50 degrees heat, with poor nutrition and no water. It's all wrong."
9. Arteta: "I speak with Ødegaard every day. I see his face, his body language: he seems really happy here at Arsenal. His contract here is until the end of the season. What we have to do is try to make him perform, develop and be as happy as he can be".
10. Mauricio Pochettino on media pressure being more at PSG than at Tottenham: "Yes. Because the club is more observed, more publicised in the world. Tottenham were too, but what PSG generates is a step above it."
11. Solskjaer about Haaland future: "It's not fair to talk about Erling as Man Utd manager. He will make his own mind up. Who we are interested, I don't want to comment. Now there are lot of rumours... Hopefully we can sit here with a player no one has written about."
12. Liverpool face a conundrum over Egyptian forward Mohamed Salah with figures inside the club increasingly convinced the 28-year-old is eyeing a future elsewhere.
13. Andy Cole's total of 34 goals & 13 assists in 1993-94 means that he is the only player to have topped both the goal & assist charts in a single Premier League season.
14. Real Madrid are ready to sell midfielder Martin Odegaard in order to fund a move for Haaland. Odegaard is currently on loan at Arsenal and the Gunners are keen to secure a permanent deal for the 22-year-old. But Haaland has reportedly told Real Madrid he wants to share a dressing room with Odegaard next season.
15. Milan coach Stefano Pioli believes qualifying for the Champions League will be crucial to keep Hakan Calhanoglu and Gigio Donnarumma at San Siro.
16. Paris St-Germain could consider letting France international striker Kylian Mbappe, 22, leave this summer with talks over his contract continuing to stall.
17. Agent Mino Raiola has reportedly talked to Barcelona patron Joan Laporta, who is interested in Juventus defender Matthijs de Ligt.
18. Pep Guardiola says he has no concerns about John Stones being able to shake off his mistake for England after returning to Manchester City.
19. Paulo Fonseca said Roma will not give up on the top four in Serie A and confirmed he has already decided between Borja Mayoral and Edin Dzeko for today.
20. Former Chelsea and England midfielder Joe Cole is in contention to be the new England Under-21 boss if Aidy Boothroyd is sacked.
21. Fabinho has admitted that he "didn't really enjoy" playing in defence for Liverpool at first, adding that he is glad to be back in his favoured midfield role.
22. Antonio Conte wants Inter to 'pick up where we left off' against Bologna and was happy to have recovered those who were out with COVID. 'They are all needed'.
23. Paul Scholes says that Ole Gunnar Solskjaer deserves a new contract at Manchester United, but has also sounded a trophy warning as the club nears a fourth successive season without silverware.
24. Tottenham manager Jose Mourinho believes England striker Harry Kane, 27, is happy with his situation for club and country amid speculation over a summer move.
25. Kylian Mbappe has admitted that he tells himself he is better than Lionel Messi and Cristiano Ronaldo before matches while discussing the importance of having an inflated ego.
26. Mikel Arteta is convinced Pierre-Emerick Aubameyang can score the goals to fire Arsenal into Europe next season.
27. Liverpool boss Jurgen Klopp has confirmed captain Jordan Henderson will miss their Champions League quarter final clashes with Real Madrid.
28. RB Leipzig winger and Spain international Dani Olmo says Barcelona will always have a special place in my heart".
29. Former Real Madrid midfield star James Rodriguez has confirmed the club blocked him from moving to Atletico Madrid last summer.
Keeping you abreast with the latest in World Class Sports. Welcome.
Why don't you share this with your friends, this might just be what someone needs to end all football related debates.
Please like and follow me for more updates and feel free to share your thoughts in the comments section below.
Thanks for reading and stay safe.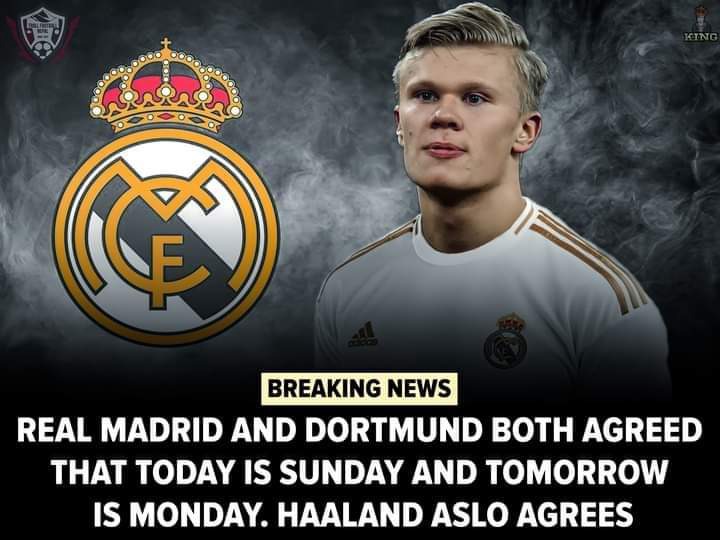 Content created and supplied by: allround.news (via Opera News )