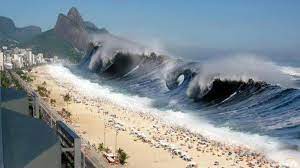 It was such a lovely day and all was calm and promising. Locals and foreigners alike were in high spirit and what a day of celebration it promised to be. Being the last Sunday of the year and a holiday during the Christmas season, peoples' expectations were high and that of total merry and celebration. Celebration would come in different forms from parties to beaching.
Many had already drawn up their New Year's resolution and great plans for the so called coming prosperous year. One could imagine the dreams of people in terms of business growth and expansion. Others looked forward to attaining greater heights in life and as usual the New Year's resolutions. Marriages were on the minds of many, education, wealth generation, travelling, attaining fame and all the things one could imagine except the only certainty of life, death!
Unknowingly for them, death was breathing right beneath them, only hours and seconds away. Death was lurking around ready for harvest. And in a moment of time, in a split second unexpectedly came man's greatest fear – DEATH! In that unexpected moment when all seemed normal, suddenly came the rage and fury of the Indian Ocean sweeping anything on its path. Over a quarter of a million people (250,000+) were swept away into eternity, ready or not. Their exit from this life came unannounced but it did come. Without any announcement, death laid its icy hands on them.
The Indian Ocean Tsunami of 26 December 2004 is known to be one of the greatest natural disasters in mankind's history. What about the over 200,000 people who are estimated to have died in the Haitian earthquake years ago?
Well in both cases not only were properties worth billions of dollars lost but most importantly lives were lost. In that moment many lost their livelihood and became destitute. In a twinkle of an eye, people's investments turned into rubbles and gone forever. Most importantly what became of the fate of all those souls that bid farewell to this life and entered straight away into Eternity? WHERE DID THEY GO? HEAVEN OR HELL?
Well, they know their fate by now and nothing can change that. But what of you? If it were you, where will you be headed? Once you die you don't have a second chance to change your destination into eternity. Beloved it's too risky to live on earth without Christ Jesus at any point of your life. Whether you like it or not you have an appointment with death sooner or later, but when it comes, will you be ready or not? Will you enter into eternity prepared or not? When Christ Jesus returns to the earth today, will you triumphantly enter heaven or shamefully to hell? If you died today will you go to HEAVEN... OR ...HELL?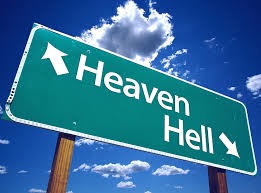 Hebrews 9:27 says, "And as it is appointed unto men once to die, but after this the judgement"
Romans 14:12 says "So then every one of shall give account of himself to God"
Beloved, there is life after death whether we like it or not. As per the foregone verses, each one of us have an appointment with death and judgement. As 2 Corinthians 5:10 states, we must all appear before the judgement seat of Christ to receive according to what we have done whiles in the body. What account are you going to render to God when your time comes? On what basis should you be permitted to spend eternity with God? What takes precedence in your life? Christ or the cares of this world? Are you consumed with your earthly pursuits at the expense of Christ? Please be reminded that no earthly pursuits or possessions can save you but Christ. It's due to this that our Lord Jesus Christ in Matthew 6:33 instructs us to seek first Gods' kingdom and its righteousness before all other things. First things first! Get your priorities right by putting God first in your life. When it's all been said and done and life is no more all the treasures of this world will not matter but what you did with Christ. What shall it profit a man if he gained the whole world and lost his soul? Mark 8:36, 37.
No flesh will stand before God justified by works of self-righteousness but only by the grace and blood of Jesus Christ are we saved. We are all born sinners heading for death and hell until we make a turnaround to receive Jesus as Saviour. "For all have sinned and come short of the glory of God." Romans 3:23. "For the wages of sin is death but the gift of God is eternal life through Jesus Christ our Lord" Romans 6:23.
Beloved, God has provided you the perfect path for escape from Hell to Heaven and eternal death to eternal life through his dear Son Jesus Christ. Bible says that it pleased God to bruised (hurt) His Son for so we can receive everlasting life. Please don't die and go to hell. Accept the grace of God through Jesus Christ our Lord. Please choose life today and forgo the second death.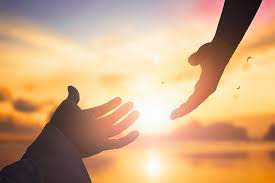 The choice is yours to make either for Heaven or Hell. Please do not postpone all this most important decision to serve Jesus as your Lord and Saviour. It is the greatest decision you will ever make in your life.
Please do this before it is too late. Hell is not a place to joke with at all. As you are reading this there are billions of people screaming at the top of their voice in the lake of fire. No water, no food, fire, worms, stench, pain, restlessness and more to deal with in all of eternity, no respite. Those there wishes for another chance on earth to change everything but it is too late now. They have already blown their chances and there is no second opportunity for them. The good news is that you have life to choose right. You have the opportunity today not to become like them. Since you have life, make that decision for Christ before it is too late. It is now in your life time or maybe never. When the inevitability of death strikes at you, where will you go for all of eternity?
Precious one, do not gamble with your life for God loves you so dearly and paid the price for your sins by the sacrifice of Christ Jesus His Son. Only believe and accept it and you will be happy you did. It's too risky to live without Jesus Christ in your life. Its too risky to live another day or go to bed without making a decision for Christ. Arise and take the salvation made available to you.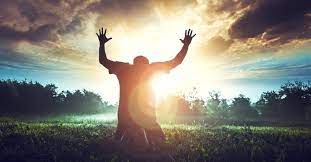 As Romans 10:9, 10 states, all you need to do is to believe in your heart that God has raised the Lord Jesus from death and simply confess His Lordship over your life and you will be saved.
 If you want to accept Jesus as your Saviour, please pray the following prayer of faith and believe in your heart.  
Dear Father, I accept that I am a sinner and you alone can save me and set me free from sin. Please wash me with the blood of Your Dear Son Jesus Christ and make me whole again. Please come into my heart and be my Lord, Master and personal Saviour and write my name in the Lamb's Book of Life, in Jesus' name, Amen!
If you prayed this prayer by faith and with sincerity, you have moved from death to life but you need to live every day for Jesus until the end of your life. Find a good Church to attend, read the Bible and pray daily and be a doer of the Word, James 1:22 . Thank you and God richly bless you in all your endeavours.
Prince E. Opare
Content created and supplied by: CMB21 (via Opera News )
Opera News is a free to use platform and the views and opinions expressed herein are solely those of the author and do not represent, reflect or express the views of Opera News. Any/all written content and images displayed are provided by the blogger/author, appear herein as submitted by the blogger/author and are unedited by Opera News. Opera News does not consent to nor does it condone the posting of any content that violates the rights (including the copyrights) of any third party, nor content that may malign, inter alia, any religion, ethnic group, organization, gender, company, or individual. Opera News furthermore does not condone the use of our platform for the purposes encouraging/endorsing hate speech, violation of human rights and/or utterances of a defamatory nature. If the content contained herein violates any of your rights, including those of copyright, and/or violates any the above mentioned factors, you are requested to immediately notify us using via the following email address operanews-external(at)opera.com and/or report the article using the available reporting functionality built into our Platform See More