Mardan Palace, Turkey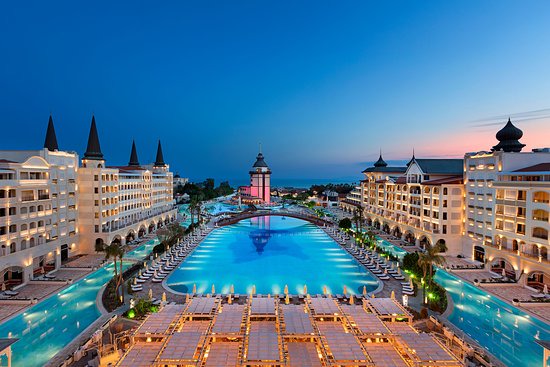 Mardan Palace is a luxury hotel based in Lara, Antalya with a reported cost of approximately $1.4 billion. With over 560 hotel rooms, it is commonly known as Europe's most expensive luxury resort.
Facilities include a 12,000 sq ft spa, 4 aquariums, 5 acres of pool plus a personal beach for the guests with sand imported from Egypt. Perfect for travelers wishing to combine comfort with luxury, the hotel includes velvet lined furniture, exotic wood floors and marble bathroom interiors.
Built to represent the sail of an Arabian dhow, the Burj Al Arab is the seventh tallest hotel in the world. Easily one of the most outrageously extravagant hotels in the world, it features a pillow menu with nine types of pillows for the guest to choose from, 24-carat gold leaf walls and full-sized Hermes amenities in every suite.
Whilst the official rating of the hotel is 5-star (the highest hotel rating there is), it is widely referred to as a seven-star hotel. This magnificent destination offers world class service-right down to the chauffeur driven Rolls Royce service.
Content created and supplied by: Ai-ngMalone (via Opera News )