The spread of COVID-19, travel restrictions and social distancing continue to affect the hotel industry
globally. Using Accra and Kumasi metropolis, the aim of the study is to assess the impact of the
COVID-19 on hotels in Ghana. The Survey technique is used. Data was collected from 80 hotel
managers using questionnaires. Paired sample t-test was used to compare the average number of
employees before COVID-19 and the average number of employees presently at post. Analysis of
variance (ANOVA) was used to compare the different levels of impact on the different types of hotels
in the country. The major findings are indicated about employees from different hotels on total number
of employees before and during COVID-19. Moreover, results also highlighted on the negative impact
on Ghana's hotel industry due to this pandemic spread globally. Implications are discussed.World pandemics have threatened the globe and sub-regions for years. Coronavirus known
as COVID-19, is an infection that was noticed at the later part of 2019 and has since spread
to over 213 countries, with more than 30,373,761 confirmed cases around the globe [18]. The
virus has since spread across the global since the first case was identified in Wuhan, China
hence on the 11th March 2020 the [18] declared the coronavirus outbreak a pandemic
worldwide. COVID-19 outbreak has change the world in all spheres of life [5]. Globally,
countries going into lockdown and the impact on human life, economic growth and
businesses are huge in the short and long term. COVID-19 being the recent pandemic has
attracted so much attention in academics and research and also among policy makers. "As
evident in other pandemics experienced in past and present centuries, COVID-19 has
affected the lives of many and gradually dampening the economic spirit of many nations" [2].
"Global hospitality industry contains a broad group of businesses such as hotel industry,
restaurants, theme parks, event planning, and many more that provides services to customer"
[14]. "Factors that were driving the hospitality industry before pandemic COVID-19 include
increasing disposable income, new travel trends, increasing online business of travelling due
to increased internet penetration and internet banking, web-presence of hotels & tourism
directories and many more" [14]. Tourism industry was one of the major factors driving the
growth of the hospitality industry before the outbreak of COVID 19. The number of
international tourist arrivals had risen continuously over the past decades. As per the growth
projection made by [17] the number of tourist arrivals across the globe was expected to cross
1.5 billion by 2020. Key factors affecting the market of the hospitality industry includes the
decrease in tours and travels, cancellation of flights and foreign visits as well as lock down,
these are the major reasons behind the slowing down of hospitality industry.
In Africa, According to [16]. "before COVID-19 in February 2020, the performance and
optimism around the South African tourism economy was relatively positive. 40% of
responding firms claim they were growing, with a further 32% performing at a constant
level. Most firms felt either neutral or positive about the future of their business and tourism
in South Africa. After the first 6 weeks of feeling the impact of COVID-19, 99% of firms
claim to be affected by the pandemic. Only 23% feel neutral or optimistic about the future".
The impact of COVID 19 in Africa's economy is heavy and has destroyed livelihood
cancellation of flight from and to Africa; "a virtual collapse of tourism and air transport
associated with lockdowns and border closures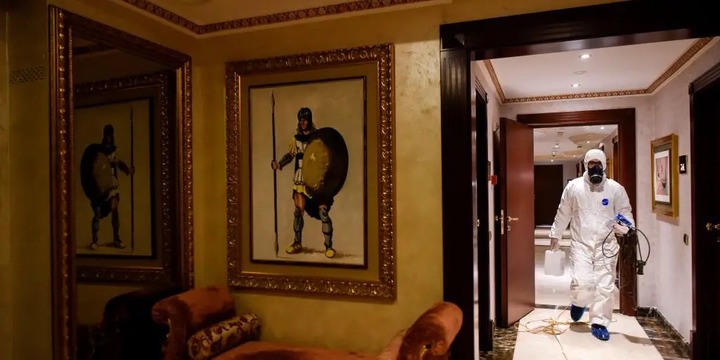 Content created and supplied by: RichGeorge (via Opera News )